Research and Library Resources
Research
Residents are highly encouraged to conduct research and disseminate findings to further their profession and advance knowledge. Residents are required to complete scholarly activities during residency, and present at a local or national conference. As per ACGME requirement, residents will also be required to participate in a CQI (Clinical Quality Improvement) project during residency training.
Reimbursement is available for accepted works of scholarly activity. Reimbursement of eligible expenses, in accordance with GME and hospital polices, may be provided for up to $1,500 for participant travel.

Internal Medicine Resident Presentations and Publications for 2022-2023:
ACP Michigan
Society of General Internal Medicine, Midwest Regional
Heart 2nd International Conference
National Allergy Conference
Journal of Clinical Medicine and Case Reports
Macomb County Research Forum
ACC Michigan
National ACP Conference
Heart Failure Society of America
Neurocritical Care Society
ACG Vancouver
Endocrinology Society
Library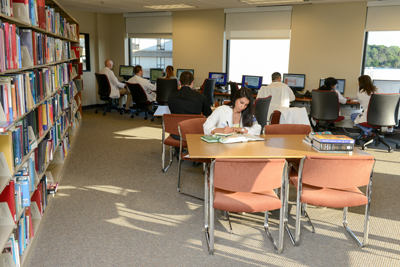 The Henry Ford Macomb Hospital Library is located on the 4th floor of the Medical Office Pavilion building. The library is open Monday-Friday from 7 am-3:30 pm. There is 24-hour badge access for clinicians.
The library provides the following services for HF Macomb associates and volunteers:
Research assistance, journal articles, and other research materials can be requested by submitting an Information Request Form; or via email, phone, or fax
As part of the Henry Ford Health Sladen Libraries network, HF Macomb shares access to a wide range of electronic resources including e-books, e-journals, and premier medical databases such as Medline, CINAHL, Cochrane, DynaMed, Micromedex, and UpToDate
HF Macomb library has a print book collection of approximately 3000 titles and access to over 3000 electronic journals through the Henry Ford Health Sladen Libraries network.
The library space features 15 computers with Internet access, Microsoft Office, and EPIC. Two multi-function photocopy machines are also available for use.
This library is not open to the public. However, if you need consumer health information, please contact the library staff by phone or email.
Henry Ford Macomb Hospital Library
15855 Nineteen Mile Road
Clinton Township, MI 48038
Phone: (586) 263-2485
Fax: (586) 263-2270
Email: macomblibrary@HFHS.org