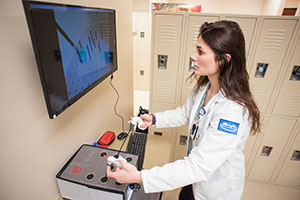 The OBGYN program provides a wide range of academic programs to supplement the diverse clinical training experiences of trainees. These include:
Weekly Education. Our weekly education occurs on Monday afternoons. This is protected time without clinical care responsibilities. Each week is dedicated to a specific topic (i.e. obstetrics, gynecologic surgery, gynecology oncology, urogynecology, reproductive endocrinology). Residents are assigned chapters from various core textbooks to present. Residents prepare and present formal presentations for gynecology oncology and standard gynecologic cases. We also host various guest speakers who present various educational topics and provide hands-on training with different gynecologic tools (IUD and Nexplanon placement, laparoscopy, slings, etc.). Weekly quizzes and PROLOG questions are also incorporated into education to prepare residents for boards and CREOG examinations.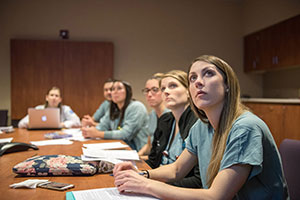 Journal Club. We hold monthly Journal Club for our residents, faculty and students. Attendance is required for all residents in the program and contributes to the overall education within the program. Each journal club features 2 resident presenters who present and analyze a journal article of their choosing. Our faculty is present to assist with critical analysis of the literature, while discussing application to clinical practice. Our journal clubs are also often sponsored by various medical and surgical equipment representatives, thus allowing for additional training and hands on experience in the ever-changing field of obstetrics and gynecology.
Board Review. Throughout residency training, weekly education and PROLOG questions contribute to education in preparation for board examinations. Oral board presentations are presented by our senior residents in preparation for oral board examinations. In addition, through the statewide campus system, our fourth-year residents attend a week-long board review course in the Spring of their fourth year.
Morbidity & Mortality Review. Every month, a morbidity and mortality conference is held during our resident didactic time and again during the OBGYN department meeting. Cases are selected by residents and attendings to be presented by the resident. Each case is discussed to identify areas for learning and practice improvement.
Robotic Surgical Training. Henry Ford Macomb hospital is home to a DaVinci Robotic surgical system. Residents undergo a robotic training curriculum incorporating both online modules and robotic simulation modules. Residents participate in robotic surgeries throughout their residency and are certified in robotic hysterectomy at the time of graduation.
Research requirement
All residents present journal club presentations and morbidity and mortality case conferences throughout their residency program. Each resident must complete a research project during his or her residency. Research projects are overseen by a faculty advisor and residents present research at the annual Statewide campus system resident research conference and the Henry Ford Macomb Hospital annual research conference. Residents also participate in quality improvement initiatives throughout their training. Residents are greatly encouraged to present their scholarly work at local and national conferences. Opportunities for reimbursement are available.