Program Director Statement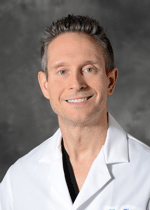 Hello and welcome to the Henry Ford Macomb Hospital Obstetrics and Gynecology Residency Training Program! I have been the Program Director here since July of 2007 and prior to that I was the Assistant Residency Program Director for three years.
Our mission statement is to train the Obstetrics and Gynecology Generalist to perform to the utmost of their capability on all levels, including surgical, medical, professional, and interpersonal.
I'm very excited about our program and I believe we offer the training of a university-based program in a regional hospital setting. Many of our attending physicians have graduated from large allopathic programs such as Hutzel Hospital, St. Johns Hospital Detroit, Oakwood Hospital and the University of Michigan and Osteopathic Programs such as McLaren Macomb, St. John Macomb, Detroit Osteopahtic and Henry Ford Macomb hospital. We offer in house training with our fellowship trained Gynecologic Oncologist and fellowship trained Urogynecologist, which few osteopathic programs in the state have. We have full time in-house attending physician coverage for the Family Birthing Center and the emergency room.
We have great enthusiasm for our program and knowledge from our core faculty and over twenty attending physicians. The high gynecologic surgery and delivery volume per resident ensures very meaningful clinical experience, which few programs can match. Faculty and residents work as partners, with residents exercising progressively elevated patient responsibility. As part of the Henry Ford Hospital Graduate Medical Education Program, we have system based Simulation Lab training. Our Observed Standardized Clinical Exams (OSCE's) are performed in the simulation lab as well, with clinical models/actors.
Our affiliation with Michigan State University Statewide Campus System allows us exposure to national speakers and university based training in ultrasound, colposcopy, and surgical anatomy. Our affiliation agreements with St. John Hospital, Crittenton Hospital, and Hutzel Hospital provide our residents with exceptional training in Maternal Fetal Medicine, Gynecologic Oncology and Neonatology.
We welcome you to our program and to the exciting field of Obstetrics and Gynecology!
Fraternally,
Kurt A. Ludwig, D.O., F.A.C.O.O.G.