Emergency Medicine Residency Program
Program Director: Spencer Solomon, D.O.
Associate Program Director: Christopher Nedzlek, M.D.
Program Coordinator: Jill Kulaszewski
Chief Residents 2020-2021: Jake Babel, D.O., Andrew Broome, M.D., Katie Hanlon, D.O., Kathy Jones, D.O.
Program Description
Current Residents: 27
Projected Residents Per Year: 9
Years of Training: 3
Emergency Physicians on Staff: 25
Annual ED Volume: 83,000 Combined ED Visits / Year
Henry Ford Wyandotte ED: 55,000 Visits / Year
Henry Ford Brownstown ED: 29,000 Visits / Year
Program Mission Statement:
The Henry Ford Wyandotte Hospital Emergency Medicine Residency Program is dedicated to excellence in patient care and physician wellness. The program is committed to the education of evidence-based medicine and the clinical practice of Emergency Medicine, incorporating system quality and scholarly activity.
Program AIM:
The goal of the training program is to develop residents into competent board-certified emergency physicians by providing tools, skills and knowledge to practice in an institution of their choosing.
Our goal is to obtain and retain diverse faculty and residents in order to prepare our residents for a real-world experience.
Henry Ford Wyandotte Hospital (HFWH) has been home to our thriving Emergency Medicine Residency Program since its initiation in 2005. Our residency is a three-year training program designed in accordance with current American Board of Emergency Medicine (ABEM) requirements for Graduate Medical Education in Emergency Medicine. Our program has received full continuous accreditation through ACGME effective 2017.
The Emergency Medicine attendings and residents staff both the ED at Henry Ford Wyandotte Hospital and the free standing ED at Henry Ford Health Center Brownstown. Henry Ford Wyandotte Hospital is a 379-bed Level III Trauma Center with an annual ED census of approximately 55,000 visits / year. The department cares for a diverse patient population presenting with complex pathophysiology and high acuity which allows for a tremendous training environment. The Emergency Department at Henry Ford Wyandotte Hospital houses: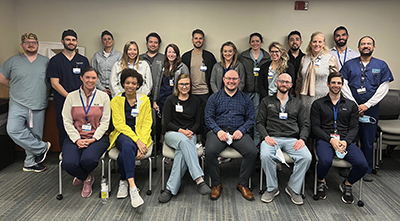 52 Total ED patient rooms and 7 Triage Bays
4 Trauma / Resuscitation Bays
9 Express Care Rooms
6 Bed Behavioral Health Unit
In addition to shifts at Wyandotte, our residents also do 4 shifts per month at Henry Ford Brownstown ED which provides an excellent experience in managing ambulatory care visits, but also the challenges of managing critically ill patients without specialist assistance on site. The diversity of training experiences that our residents receive in both our large community hospital and freestanding ED is also complemented by other strong urban tertiary care rotations. It is our goal that our residents will be able to diagnose, stabilize, and confidently manage any patient presenting to any type of emergency department at the time of their graduation.
As a supplement to our hands-on clinical learning, residents train in Henry Ford Wyandotte Hospital's new Simulation Lab as well as at the state of the art Simulation Center at the Henry Ford Hospital in Detroit. Furthermore, our program encourages ultrasound credentialing through a structured curriculum, offering the opportunity to train on the department's own Sonosite Ultrasound machines, including two Sonosite X-portes. Residents are also enrolled into EMSono, which provides asynchronous ultrasound learning as part of our didactics curriculum. Outside of the time spent in the Henry Ford Wyandotte Emergency Department, our residents rotate at Henry Ford Hospital in Detroit for MICU, Children's Hospital of Michigan, Detroit Medical Center for Toxicology, Hurley Hospital in Flint for PICU, and Baltimore Shock Trauma Center in Maryland. Upon completion of their training, residents are eligible for board certification by the American Board of Emergency Medicine.