Didactics in Obstetrics and Gynecology
The Obstetrics and Gynecological Program didactics are an important component of the Henry Ford Wyandotte Hospital training program. On a regular basis, residents will be assigned to present in various formats.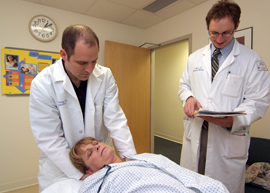 The weekly and monthly didactic and lecture schedules include:
Weekly
ACOG Bulletins Review
Book Club
Clinic Chart Review
High Risk Clinic
Lecture Series
Rosh Review
GYN Oncology Clinic
Urogynecology Clinic
Monthly
Basic Science (SCS-PGY2 only)
Educational Meeting
Gynecology Tumor Board
Gynecology Oncology Lecture
Journal Club
Morbidity/Mortality
Multidisciplinary Educational/Patient Care Conference (MCCC)
Resident Meeting
Statewide Campus System meetings with all residents
OMT Clinic
OMT Lecture
Urogynecology Lecture
Highlights
da Vinci Robotic Training
Osteopathic Manual Manipulation (OMM) Education
Schedule Sample
The following information describes an example of what a week of the program's didactic schedule entails, along with example special events occurring within a given month.
Monday
Tuesday
7 - 8 a.m. ACOG Practice Bulletin
8 - 12 p.m.GYN Oncology Clinic
Wednesday
8-12 p.m. Grand Rounds HFH (1st)
7:30 - 8:30 a.m. MCCC (2nd)
11:30 a.m. - 1 p.m. Tumor Board (2nd)
7 - 8 a.m. GYN Oncology Lecture (3rd)
7- 8 a.m. Urogynecological Lecture (4th)
9 a.m. - 4 p.m. Urogynecological Cinic
Thursday
7 - 8 a.m. Academic Lectures
9 a.m. - 12 p.m. High Risk OB Clinic
Friday
7:30 - 8:30 a.m. Rosh Review/Strip Rounds
9 - 12 p.m. OMT Clinic (1st)
Special Events
6 - 9 p.m. Journal Club (1st Tuesday)
9 a.m. - 2 p.m. MSU Special Didactics (3rd Thursday)
Clinics

All clinics are held in the OB/GYN Clinic building.
Continuity Care Clinic

1/2 day for each resident per week

GYN Oncology Clinic
Urogynecology Clinic

Wednesday 8:30 a.m. - 4:30 p.m.

MFM Clinic
OB/GYN OMT Clinic

1st Friday of the month 9a.m. - 12 p.m.