General Surgery Residency Program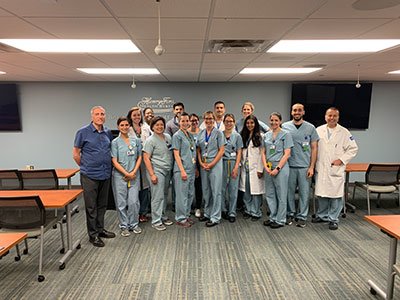 Program Director: Fadi Baidoun, M.D., FACS
Associate Program Director: Moe Dughayli, M.D., FACS
Medical Education Specialist: Mary Schooner
The Program
Henry Ford Wyandotte Hospital's General Surgery Residency Program is a five-year training program that provides a broad-based surgical training experience blending the hospital's facilities with the wide range of resources available within the Henry Ford Health.
A key objective of the residency training program in surgery is the provision of a proper knowledge base in the field of surgery, which includes the preoperative, intraoperative and postoperative management of the surgical patient. Crucial to this goal is the structured educational program upon which each resident builds a strong knowledge database. These conferences include a weekly morbidity and mortality review, a weekly general surgical conference, bedside teaching walk rounds, as well as monthly surgical grand rounds and conferences.
A major strength of the program is the broad-based clinical experience. The program provides the trainees with a broad-based exposure to patients in the areas designated as the core areas for general surgery, advanced minimally invasive surgery, surgical oncology, abdominal surgery and vascular surgery. The experience is enhanced with rotations in sub-specialties in affiliated centers.
Additional training takes place at Henry Ford Hospital, a 903 bed hospital in the center of Detroit that functions as a major research and academic medical center providing tertiary and quaternary care, offering tremendous clinical and cultural diversity in its patient population. Trauma, Pediatric surgical rotations are available at Dayton's Childrens Hospital and Trauma rotations through the Detroit Medical Center
Henry Ford Health has a long-standing and deep-rooted commitment to the importance of diversity in both research and educational programs. We believe that this commitment to diversity both strengthens our community and ensures delivery of the highest quality of care to our patients. We encourage applications from non-traditional candidates. Henry Ford Health does not permit discrimination of any kind in its hiring policies or within the workplace.
The aim of the Henry Ford Wyandotte Hospital General Surgery Residency Program to produce a highly qualified physician capable of meeting the unique surgical needs of smaller communities. The emphasis is on education, training, research and scholarly activity that will enable them to practice the specialty of General Surgery. The graduation of well-trained, well-rounded, compassionate General Surgeons is our priority. The education and experience of this program will prepare the resident to provide excellent surgical care in their future practice. The program ensures medical students, residents, faculty, physicians, governing boards, certifying boards, funding agencies and the public that the training and education provided by this program is supervised and of high quality