Letter of Introduction | Medical Education
Thank you for your interest in the surgical residency training program at Henry Ford Wyandotte Hospital. The training environment at Henry Ford Wyandotte Hospital has a large clinical volume, excellent faculty, a dedicated general surgery education director for didactics, and research capabilities. Fellowship training is highly encouraged and many of our residents choose to pursue fellowship training after completion of their five year program.
Henry Ford Wyandotte Hospital is one of the nation's 100 Best Hospitals from 2015-2017, providing primary and specialty care services. Henry Ford Wyandotte Hospital, an American College of Surgeons is designated a Level 3 trauma center.
Clinical care:
The Henry Ford Wyandotte Hospital department of surgery, clinical volume for resident education is diverse. Residents in our program finish with an excellent experience in minimally invasive surgery, critical care, vascular, colorectal surgery, and thoracic surgery. Finally, our resident case volume meets and exceeds the national standard.
Residency training:
The Henry Ford Wyandotte Hospital surgical residency program has received Initial Accreditation by the Accreditation Council for Graduate Medical Education (ACGME) as of 7/1/2016. Our trainees are well equipped to handle the challenges of surgical practice. Henry Ford Wyandotte Hospital is a primary rotation site for 3rd and 4th year medical students from Michigan State University.
Residents attend numerous educational sessions that are tailored to their level of training. Didactic, simulation center, and computer based instruction augments the surgical residency education curriculum. Workweek hours are logged on a web based program to allow real-time monitoring of service workloads. Our Residents utilize our very own state of the art Simulation Center at Henry Ford Wyandotte Hospital as well as the Henry Ford Hospital Simulation Center, one of the largest and most advance simulation centers in the country to complement hands on training in endoscopic and laparoscopic surgery.
Thank you again for your interest in the Henry Ford Wyandotte Hospital General Surgery Residency Program.
Best of luck in your career plans,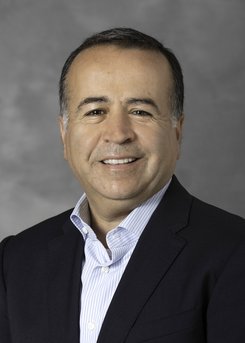 Fadi Baidoun. MD, FACS
Program Director