Brooke Buckley, M.D., FACS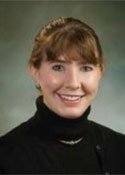 Chief Medical Officer, Henry Ford Wyandotte Hospital
Brooke Buckley, M.D., FACS, is Chief Medical Officer of Henry Ford Wyandotte Hospital. She is responsible for the leadership of the hospital's physicians.
Before serving in her current role, Dr. Buckley served as Vice President and Chief Medical Officer of Meritus Health, a regional health system in Washington County, Maryland.
A native of Cleveland, Ohio, Dr. Buckley brings with her years of administrative experience with a focus on clinical integration, process improvement and quality care with a special concentration in professional development.
She earned her undergraduate degree in biology at The Johns Hopkins University and her medical degree from The Ohio State University College of Medicine and Public Health. Dr. Buckley completed her general surgical internship and residency at Fairview Hospital in the Cleveland Clinic System before taking her first surgical position in 2007 with Shore Health in Easton, Maryland. In 2012, she began working for Anne Arundel Medical Center in Annapolis, Maryland as an acute care surgeon, later becoming Medical Director, Division Chief of General Surgery and Associate Chair of the Surgery Department.
In addition, Dr. Buckley serves on the Committee of Clinical Leadership for the American Hospital Association and on the American Medical Political Action Committee Board for the American Medical Association.