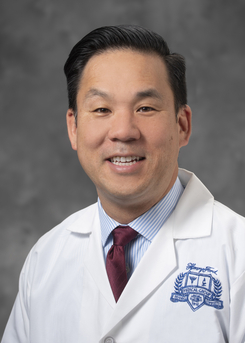 David S Kwon, MD, FACS
Services: Adrenal Disorders, Appendix Cancer , Cancer Surgery , Digestive Cancer , Gallstones and Gallbladder Disease , Gastrointestinal Tumors , General Surgery , Hyperthermic Intraperitoneal Chemotherapy (HIPEC) , Lymph Node Swelling , Melanoma , Neuroendocrine Tumors , Pancreas Surgery , Pancreatic Cancer , Parathyroid Disorders , Sarcoma
Board Certification and Education
Board Certifications
American Board of Surgery - Surgery
Education
University of California San Diego School of Medicine, CA, 2003
Residencies & Internships
Henry Ford Hospital, Surgery, MI, 2009
Fellowship
University of Texas - MD Anderson Cancer Center, Oncology Surgical, TX, 2011
About Me
Biographical Statement
David Kwon, MD, FACS, FSSO is a board-certified surgeon and fellowship-trained surgical oncologist. He received his undergraduate degree in Biological Sciences from Columbia University and earned his medical degree from the University of California, San Diego. He completed his residency in general surgery at Henry Ford Hospital where he received multiple research and clinical awards. He completed a surgical oncology fellowship at the University of Texas, M.D. Anderson Cancer Center where he developed clinical expertise in the multidisciplinary care of cancer patients.

Dr. Kwon's clinical interest is in the multidisciplinary management of solid tumors. He is recognized as an expert in surgery and multidisciplinary management of complex patients with pancreatic, gastric, and rare cancers. Dr. Kwon and his teams are committed to providing evidence-based, state of the art care for all cancer patients.
Titles
Physician in Charge, Brigitte Harris Cancer Pavilion
Clinical Director, Henry Ford Pancreatic Cancer Center
Division Head, Surgical Oncology
Interim Deputy Director--Surgical Oncology Specialties, Henry Ford Cancer Institute
Medical Director, Cancer Care Pathways
Care Philosophy
Dr. Kwon specializes in assessment, treatment planning, and surgical services in a multidisciplinary setting. He's dedicated to providing compassionate care for his patients, while perfecting new techniques to improve survival, shorten recovery times and minimize treatment-related side effects. He treats all his patients with the utmost respect and works with them in a supportive and relaxed atmosphere to provide the best possible care.
Research Interests
As the Clinical Director of the Henry Ford Pancreatic Cancer Center, Dr. Kwon is leading the effort to bring together the world's best minds to accelerate the pace of discovery in early detection and treatment of pancreatic cancer. His personal research interests are related to identification of radiographic biomarkers indicating early presence of disease, health and healthcare disparities, and surgical outcomes.
Locations
2800 W Grand Blvd
Detroit,
MI
48202
1961 S Telegraph Rd
Bloomfield Twp,
MI
48302
Henry Ford Hospital
Henry Ford Macomb Hospital - Clinton Township
Henry Ford West Bloomfield Hospital