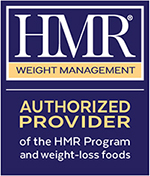 The HMR at Home Program makes losing weight easy and convenient with automatic food delivery, personalized support, and extra savings - so you can save more money and lose more weight.
Average weight loss: 23 lbs at 12 weeks, 28 lbs at 26 weeks
Convenient home delivery of HMR foods and program materials
Weekly group coaching by phone included
Digital support through the HMR app to stay on track
We partner with HMR's national team of Health Coaches to deliver the at-home program. When you use the link below and join the at-home plan or purchase HMR foods online, HMR will associate you with our program.
HMR at Home members receive:
Great savings on HMR Healthy Solutions Quick Start™ Diet Kits
Automated Kit delivery every 2 weeks for uninterrupted weight loss
Detailed, step-by-step dieting "how-to" materials with your first Kit order
Free Quick Start™ CD to help you lose the most weight in the first few weeks
Free customer service calls to answer any questions at any point during your diet
---
Always consult your physician before beginning any diet or exercise program.
Some of the material used in this site is owned by Health Management Resources Corporation (HMR) of Boston, Massachusetts, and is used with its permission. Click on the Notices and Disclaimers link for more specific information about the relationship of HMR and this site and other important information. Notices and Disclaimers.