Center for Metabolic Health and Weight Management – Henry Ford Wyandotte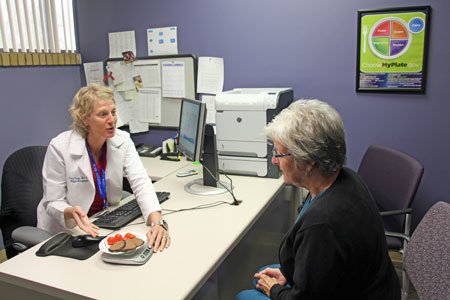 The Center for Metabolic Health and Weight Management partners with you to support improvements to your health, weight and wellness. The multidisciplinary team specializes in lifestyle, behavior modification and nutrition to help treat or prevent type two diabetes, high blood pressure, overweight and other health problems impacted by your metabolic health.
Experts will assist you in applying healthy nutrition, physical activity, and behavioral health practices for sustained healthy habits. Patients with a variety of dietary needs or preferences, including plant-based diets, food allergies or intolerances, meal replacements and others are welcomed.
Our Philosophy
Developing sustainable habits for long-term metabolic health success requires a multidisciplinary approach rooted in addressing 5 key areas: Healthy and Enjoyable Nutrition, Healthy Levels of Physical Activity, Behavioral and Psychological Wellbeing, Food and Social Environments as well as Maintaining a System of Accountability.
Get Started on Improving Your Health
Join us for a free informational seminar and learn more about the Metabolic Health and Weight Management Programs. If you are a new patient, we ask that you please download, print and complete the intake form and bring it with you to the seminar. Register today.
---
Metabolic Health and Weight Management Patient Testimonials
"I started the program in September 2016 to approximately May 2018 and am proud to say I have lost 130 pounds. I can't say enough about the program and the staff – both are fabulous. The group classes were fun and very informative. The staff is very professional and friendly and always willing to help. Emily, Tara and Lindsey are great and very knowledgeable. Emily Jacobs was the staff member I had the most interaction with and she was always willing to help if I had a stumble or a bad week. She would always help me and get me back on track. I cannot thank her enough. I would highly recommend the program to anyone that asks. It truly was a life changer. I can't express my gratitude enough and say enough good things about the staff and program." — Ed Potts