Learning Tips, Tools and the Value of Stillness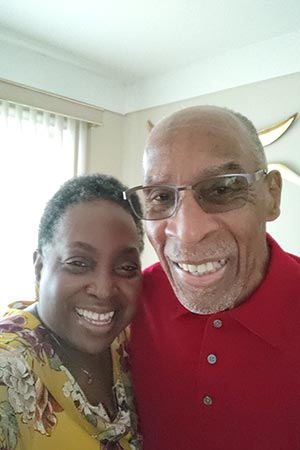 After Delphine's husband was diagnosed with dementia, she searched for a doctor who could provide the care she wanted for Clarence. After finding the right neurologist at Henry Ford Health, she learned about the C.A.R.E. Program and the Caregiver Support Group.
"The outlook was not very bright for his future," she realized after Clarence received in-depth screening and a report, "but I'm happy with the care he is getting now."
Delphine and Clarence are in their 70s and live on their own with little outside help. "As his caregiver, it can be tiring. I think I hover too much, trying to be sure everything is ok. I worry a lot," she discloses. Even though she doesn't have the energy she used to, Delphine takes care of the housework, cooking, driving, and serves in leadership positions with her sorority, AKA, and their local charter school board.
"I know it could be a lot worse. He gets agitated at times and says I'm always telling him what to do. But he does all his own self-care, helps around the house, and we do a lot together – church, movies, and watching football games on TV," she says.
When Delphine attends the Caregiver Support Group she picks up helpful tips. "I learned how to use a digital calendar, get proxy access to his MyChart account, and about power of attorney for health care. I also became aware of special concerns for Clarence when it comes to anesthesia and dementia," she says. For herself, she's learned to be still. "I'm also reminded to do things for myself, even if it's just sitting in the car listening to music before I come inside."
Learn more about C.A.R.E. classes and support groups.