A message from the Program Director
Thank you for your interest in Henry Ford! I am excited to tell you about the Henry Ford Hospital Emergency Medicine program.
Our mission is to develop future leaders in education, research, administration, and patient advocacy by educating residents to be outstanding clinicians and providing them with opportunities to advance emergency care for all patients.
Our primary focus during your residency is to help you develop outstanding clinical skills. We have been training emergency physicians for over 40 years and our graduates are known throughout the country for their ability to provide world class clinical care in any setting. The development of strong clinical ability forms the foundation of a successful career in Emergency Medicine. Henry Ford EM trained physicians are nationally respected for their clinical skills and our graduates are heavily recruited for clinical positions and fellowships throughout the country.
In addition to this exceptional clinical training, we have a multitude of opportunities for our residents to explore subdisciplines such as operations, education, and research. Our three-year curriculum includes time for three electives affording you the time to explore your unique interests. We have faculty who are trained in Critical Care, Ultrasound, EMS, Toxicology, Sports Medicine, Palliative Care, Addiction Medicine, Medical Education, Wilderness, Administration and Pediatrics. These dedicated faculty provide our residents with specialized education and mentorship opportunities. Over the past 5 years, over 40% of our graduates have chosen to pursue a fellowship.
What really makes Henry Ford unique is our diverse group of wonderful people. When you join us at Henry Ford, you will join a group of residents who are unified by a sense of family. You will learn from world renowned faculty who are excited to teach you cutting edge Emergency Medicine and are deeply invested in your personal growth and development. You will work with a dedicated and talented team of nurses and ancillary staff who love what they do. And you will contribute to our community by caring for an underserved urban population who trust you to provide them with the best care possible.
It has been an honor and privilege to serve as program director for the past decade. I will be transitioning to the role of Vice Chair of Education by July 2024. We are currently in the process of identifying the person that will lead the program into the future. We plan to announce the new program director prior to the interview season so that you may have an opportunity to get to know them. I am excited to support and assist the new PD as they build on our strong foundation and continue innovating the program.
If you choose Henry Ford, we will help you achieve your goals. Our residency program is a family that will support you throughout your training and entire career. Thank you for taking the time to learn about the Henry Ford Emergency Medicine Program.
Respectfully,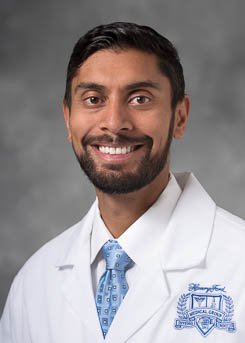 Taher Vohra, MD
Program Director
Henry Ford Hospital Emergency Medicine Program
Learn more about our full program leadership team