Endocrinology, Diabetes, & Metabolism Fellowship
Division Head: Arti Bhan, M.D.
Program Director: Sharon Lahiri, M.D.
Program Coordinator: Emilie Miller
The Henry Ford Hospital Endocrinology and Metabolism fellowship has been training fellows for more than 50 years. The Endocrinology and Metabolism Fellowship Program prepares trainees for certification in the subspecialty by the American Board of Internal Medicine. The fellowship program provides an extensive clinical experience in endocrinology and metabolism, the opportunity for significant clinical research, and a setting in which to acquire the skills of scholarship in the sub-specialty.
Years of training: 2
Number of positions: 3 per year (candidates must have three years of training in internal medicine with subsequent certification by the American Board of Internal Medicine before or during fellowship training)
Clinical and didactic training provided by faculty members from the Divisions of Endocrinology, Diabetes, Bone and Mineral Disorders, Nuclear Medicine, Radiology, Cytopathology, Clinical Chemistry, Urology, and Neurosurgery. Fellows also have the opportunity to rotate with Reproductive Endocrinology and Pediatric Endocrinology off-site in their second year.
Curriculum includes Endocrinology Grand Rounds, Patient Case Conference, Journal Club, Research Conference, Weekly Didactic Fellows Conference, Cytopathology Conference, MRI Conference, Thyroid tumor board.
Each fellow conducts two to eight half-day general endocrinology clinics per week in the Division depending on the rotation. Fellows will rotate through a multidisciplinary thyroid cancer clinic and an adrenal disease clinic throughout both years. During the second year, fellows have the opportunity to rotate in Nuclear medicine, Clinical Chemistry, Urology, Reproductive Endocrinology, Pediatric Endocrinology, and Bone and Mineral clinic.
Overview of the Program
Henry Ford Health provides a full spectrum of endocrinology services in our clinics. Some of the many activities fellows will be involved in are listed below.
Active practice in adult general endocrinology, diabetes mellitus, lipid disorders, obesity, bone and mineral disorders, adrenal and pituitary disorders, thyroid disease, gonadal disorders, and gender dysphoria including both inpatient and outpatient consultations, the utilization of diagnostic procedures, continuing care in the subspecialty, and an opportunity for teaching junior residents and medical students
Learning how to diagnose and treat all thyroid disorders, interpret radionuclide imaging, dose radioactive iodine therapy, perform and interpret thyroid ultrasound, perform ultrasound-guided fine needle aspiration, and interpret cytologic and molecular testing results. We have a multidisciplinary approach to thyroid cancer and work closely with endocrine surgery, oncology, pathology, and nuclear medicine.
Experience in the use of insulin pumps and continuous glucose monitoring
Opportunities to manage diabetes in adolescents and in pregnant women.
An optional week at the Michigan summer camp for children with diabetes (Camp Midicha)
Interpreting hormone assay results and adjunctive testing
Participation in the pediatric endocrinology clinic
Participation in reproductive endocrinology clinic and urology clinic to learn about treatment of female and male infertility and male hypogonadism
Gain experience caring for transgender and gender non-conforming patients. Learn about cross-sex hormone therapy and other issues in transgender care
Gain experience caring for patients with adrenal and pituitary disorders
Learn to manage obesity with lifestyle changes in addition to pharmacotherapy
Participation in the inpatient and outpatient care of patients with metabolic bone disease, parathyroid disorders and kidney stones
Learning the laboratory, radiologic, and histologic diagnoses of metabolic bone disease, and the current concepts of therapy of these disorders
Opportunities to participate in clinical research
Educational Activities:
Core Curriculum lectures
Thyroid tumor board
Cytopathology review
Fellow directed case conference
Endocrine Grand Rounds
Journal Clubs
Weekly fellow lectures on core endocrinology topics
Adrenal and Pituitary imaging conferences
Board Review sessions
Quarterly Morbidity and Mortality conferences
Opportunities to attend and present research at the Medical Education Henry Ford Health Research Forum in addition to national meetings including Endocrine Society, American Association of Clinical Endocrinology (AACE), American Diabetes Association, American Thyroid Association, and American Society of Bone and Mineral Research.
Attendance of Endocrine University sponsored by AACE
Participation in local Michigan AACE Chapter meetings (fall meeting) and quarterly Michigan Endocrine Club meetings.
Scholarly Activity and Research Activities
Fellows all participate in scholarly activity including:
Journal clubs twice a month
Clinical research project – quality improvement or other. Fellows work with a senior staff mentor and are guided through the process of writing an IRB, collection of data, and submission of an abstract/poster and eventually a manuscript. Henry Ford Hospital has an abundance of services including librarian-assisted literature searches, statistical help from the Department of Public Health Sciences, and manuscript editorial services.
Submissions of case reports as posters or abstracts for local and national meetings.
For recent published articles, book chapters, and abstracts by our Endocrinology faculty, see: https://scholarlycommons.henryford.com/endocrinology/
Message from the Program Director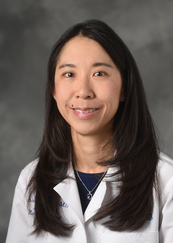 Dear Prospective Endocrinology Fellowship Applicant,
It is our pleasure to welcome you to the Henry Ford Hospital-Wayne State University Endocrinology, Diabetes and Metabolism fellowship. Our adult fellowship program offers a unique and intensive clinical training experience, exposure to a diverse patient population, the opportunity to work with outstanding teaching faculty with diverse clinical and research interests, and significant opportunity for clinical research.
The primary location of the fellowship program is the downtown Henry Ford Hospital campus.
Over 2 years, fellows are well trained in all areas of endocrinology and gain specific expertise in thyroid ultrasounds and ultrasound guided thyroid fine needle aspirations which are done in our clinic under the supervision of the faculty. In addition, fellows gain expertise in the use of all modalities of diabetes treatment, including insulin pumps and continuous glucose monitoring. Fellows will work with experts in bone and mineral metabolism as well and learn about bone density interpretation, diagnosis and treatment of osteoporosis and parathyroid disorders. Fellows will also gain experience taking care of and prescribing cross-sex hormone therapy for transgender and gender non-conforming patients.
During the first year, the great majority of the time is spent in clinical activities either in the outpatient or inpatient setting. During the second year, more time is spent on outpatient clinical activities and research. The Division has been and continues to be a leader in clinical trials in the area of diabetes, cardiovascular diseases, and bone and mineral metabolism. Fellows will participate in continuous improvement projects on quality and safety as well.
We seek outstanding candidates who will grow and benefit from state-of-the-art training in Endocrinology. Fellows are well prepared for board certification in Endocrinology by the American Board of Internal Medicine and for independent practice upon graduation from the program. Our graduates have continued careers in academic medicine as clinician educators or have pursued clinical practice opportunities.
We are proud of our excellent clinical fellowship training program and welcome you to contact us if you need further information or with any questions about our program. We look forward to hearing from you.
Sharon Lahiri, M.D.
Program Director
Mission
The mission of the Henry Ford Endocrinology and Metabolism Fellowship is to train highly motivated fellows to become excellent clinicians who have expertise in all areas of Endocrinology, the ability to care for an ethnically and socially diverse patient population, and interest in life-long learning and continued scholarly activity. Graduates will be well-equipped to practice in academia or private practice.