One of the Busiest Freestanding ERs Gets a New Look
July 13, 2020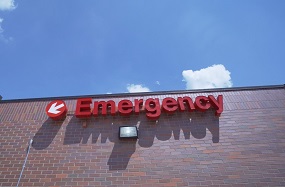 DETROIT – A $15 million renovation and expansion of the emergency department at the Henry Ford Medical Center-Fairlane in Dearborn features new private rooms, two additional nursing stations and a fast-track triage area – all with an eye on enhancing the patient experience.
The upgrades culminate two years of construction that nearly doubled the size of the emergency department, considered one of the busiest freestanding facilities of its kind in the country. Located in Wayne County's second largest city, the emergency department treats 70,000 patients a year for minor injuries like ankle sprains, insect bites and lacerations and life-threatening conditions like strokes and heart attacks.
The emergency department, 19401 Hubbard Drive across the street from the Fairlane Town Center shopping mall, is one of nine in the Henry Ford Health System spanning Wayne, Oakland, Macomb and Jackson counties.
Jason Vieder, D.O., division head of the emergency department, says the renovation and expansion was necessary to accommodate the volume of patients that has increased 55 percent since he joined Henry Ford in 2005. When the medical center opened in 1975, the emergency department was equipped to handle 30,000 patients a year.
"Now that our physical space is larger, wait times will be greatly decreased," Dr. Vieder says. "It will allow us to take care of our patients even more effectively."
John Deledda, M.D., chair of Emergency Medicine for the health system, says the emergency department anchors a bustling medical center that provides nearly 30 services including cardiology, cancer care, orthopedics and outpatient surgery.
"The Fairlane medical center is such a fixture in Dearborn and the surrounding communities it serves," Dr. Deledda says. "This renovation and expansion have been well received by our patients and staff, a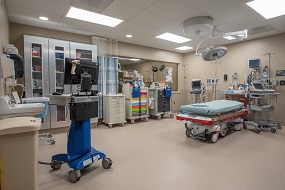 nd it positions the entire medical center for growth well into the future."
The emergency department remained open throughout the construction and did not impact the safety or care of patients. Most of the work was completed by the time the COVID-19 pandemic put a halt on construction projects in Michigan in March and April. A few remaining touch-ups will be completed soon.
The newly expanded 26,314-square-foot emergency department includes more than 11,000 square feet of additional room capacity. The facility is staffed by about 165 team members including 40 physicians, nurse practitioners and physician assistants. Key features:
57 all-private treatment rooms, up from 31, and each equipped with a cardiac monitor.
A clinical decision unit for patients who may require additional stay until their condition improves.
An expanded trauma area that allows physicians to closely monitor patients' care from an adjacent room.
Four nursing stations, up from two.
Fast-track triage area for treating minor ailments like sore throats and ear infections.
Decontamination unit for cleansing patients or staff of toxic substances or infectious agents.
Additionally, an X-ray suite is centrally located to expedite imaging tests for patients.
"I'm super proud of our expansion," says Doretha Graham Brekke, R.N., director of nursing in the emergency department who started her career as a medical records filer at the medical center 30 years ago. "It's amazing to walk through the doors and see the transformation. Overall, the staff is really impressed with how this project turned out."
Staff had input on the planning and design of the renovation and expansion, Graham Brekke says, all of which contributed to not only enhancing the patient experience but also their work environment. "What this expansion means to the community of Dearborn is a nicer, more private visit when they come through our doors. There's a homey feeling in this department now instead of a hospital kind of feeling."
###
MEDIA CONTACT: David Olejarz / David.Olejarz@hfhs.org / 313.874.4094