Post ICU Brain Health Clinic for COVID-19 Patients Opens
April 8, 2021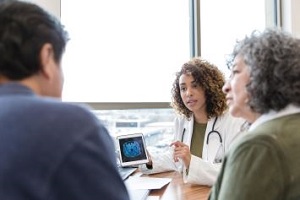 DETROIT (April 8, 2021) — Henry Ford Health System has established a specialty clinic to treat COVID-19 and other patients who have lingering cognitive, emotional and mental health conditions after being hospitalized in the intensive care unit.
As an increasing number of COVID-19 patients recover and are discharged from the hospital, it is anticipated that well into the future, many will need help getting back to their normal physical and mental functioning.
Henry Ford's Post ICU Brain Health Clinic opened recently at its neuropsychology centers in Detroit and West Bloomfield. Clinic staff conduct evaluations, make recommendations for treatment and provide resources for anyone ages 55 and older who was hospitalized in the ICU in the past year and continues to experience cognitive, behavioral or psychiatric symptoms. In addition, services will be offered for caregivers to learn new tools and strategies for caring for and supporting their loved one as well as home health visits to assist patients with using telemedicine.
The clinic is headed by board-certified neuropsychologists with specialized expertise in aging, neuropsychiatric conditions, assessment and treatment of older adults and caregivers.
It was made possible by a $500,000 Healthy Aging Grant from the Michigan Health Endowment Fund. A portion of the funding will be allocated to help uninsured patients overcome their financial barrier to receiving these much-needed services.
"Patients who end up in the ICU can experience lasting issues with mental processing and carrying out simple tasks," said project coordinator Maya Pinjala, Ph.D. "Also, emotional issues may be compounded because patients are not able to have visitors in the hospital or establish a personal connection with their providers because of the facemask and other PPE they're wearing."
Critical illness represents a serious condition that requires treatment in an ICU. Approximately 1.4 million older adults in the United States survive an episode of critical illness each year, and an estimated 30% to 80% of them experience a wide range of physical, cognitive, and psychiatric impairments following discharge from the hospital.
Family members of ICU patients may also experience anxiety, acute stress disorder, post-traumatic stress, depression, or complicated grief, a syndrome known as post-intensive care syndrome-family (PICS-F), which can directly affect the family member's ability to fully engage in caregiving functions.
As a result of their ICU experience, some patients will also suffer from mental health disorders such as PTSD, anxiety, problems sleeping and depression.
"This clinic aims to minimize post intensive care syndrome (PICS) symptoms and maximize a patient's recovery from serious illness," said Brad Merker, Ph.D., Division Head of Neuropsychology for Henry Ford's Behavioral Health Services.
Once a referral is made and criteria are met, patients and caregivers will complete a comprehensive neuropsychological examination to help understand their difficulties. A portion of the evaluation will be conducted virtually, and the other half completed at the clinic.
Referrals for patients and their caregivers can be made by calling 313-874-4846.
###
About Henry Ford Health System
Founded in 1915 by Henry Ford himself, Henry Ford Health System is a non-profit, integrated health system committed to improving people's lives through excellence in the science and art of healthcare and healing. Henry Ford Health System includes Henry Ford Medical Group, with more than 1,900 physicians and researchers practicing in more than 50 specialties at locations throughout Southeast and Central Michigan. Acute care hospitals include Henry Ford Hospital in Detroit, MI and Henry Ford Allegiance Health in Jackson, MI – both Magnet® hospitals; Henry Ford Macomb Hospital; Henry Ford West Bloomfield Hospital; and Henry Ford Wyandotte Hospital.
The largest of these is Henry Ford Hospital in Detroit, a quaternary care research and teaching hospital and Level 1 Trauma Center recognized for clinical excellence in cardiology, cardiovascular surgery, neurology, neurosurgery, and multi-organ transplants. The health system also provides comprehensive, best-in-class care for cancer at the Brigitte Harris Cancer Pavilion, and orthopedics and sports medicine at the William Clay Ford Center for Athletic Medicine – both in Detroit.
As one of the nation's leading academic medical centers, Henry Ford Health System annually trains more than 3,000 medical students, residents, and fellows in more than 50 accredited programs, and has trained nearly 40% of the state's physicians. Our dedication to education and research is supported by nearly $100 million in annual grants from the National Institutes of Health and other public and private foundations.
Henry Ford's not-for-profit health plan, Health Alliance Plan (HAP), provides health coverage for more than 540,000 people.
Henry Ford Health System employs more than 33,000 people, including more than 1,600 physicians, more than 6,600 nurses and 5,000 allied health professionals.
###
MEDIA CONTACT: Email: mediarelations@hfhs.org