Henry Ford Health's 'Women-Inspired Neighborhood Network: Detroit' Opens New Group Prenatal Care Center, Expanding and Deepening Work in Infant Mortality and Maternal Health
October 24, 2022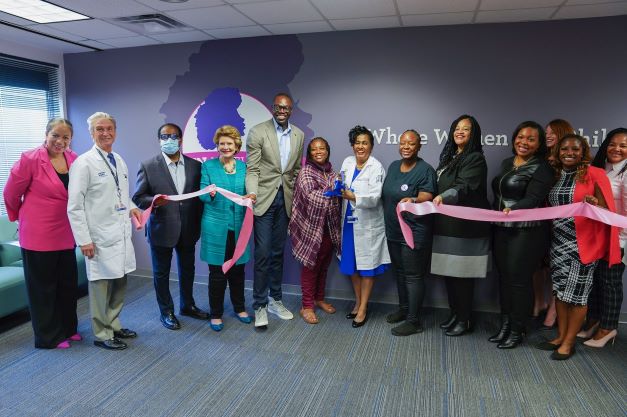 DETROIT (Oct. 24, 2022) – Henry Ford Health and its Women-Inspired Neighborhood (WIN) Network on Monday welcomed the U.S. Department of Health and Human Services, Michigan Lieutenant Governor Garlin Gilchrist II and U.S. Senator Debbie Stabenow, as well as state and local officials and families at high risk of infant mortality, to the opening of the WIN Network: Detroit's Group Prenatal Care Center at Henry Ford Medical Center - New Center One in Detroit.
The opening, led by Kimberlydawn Wisdom, M.D., co-founder of WIN Network: Detroit and Senior Vice President of Community Health and Equity and Wellness and Chief Diversity Officer at Henry Ford, comes 10 years since the first version of the group prenatal care effort launched and quickly began to make a difference in the lives and health of babies and pregnant mothers.
WIN Network: Detroit pairs certified nurse midwives and community health workers with 8-12 expectant parents at similar stages of pregnancy for regular check-ups, education sessions and community connections. Those services are offered throughout pregnancy and through baby's first year of life.
The new center will increase the number of families that can participate in this program from about 100 per year to more than 250 per year. The goal is to expand WIN Network to other locations and cities.
"This expansion will no doubt save and improve lives. For many of the families we serve, the challenges of housing, transportation and other obstacles supersede their ability to tend to their health needs and the needs of their families," Dr. Wisdom said. "We want to partner and implement the innovations and solutions coming from the White House and our other elected bodies in Washington, Lansing and Detroit. Our plan is to scale and replicate this model across the state and beyond."
Group Prenatal Care programs such as WIN Network: Detroit have shown a 41 percent reduction in preterm births for Black women and driven down disparities in birth outcomes, but there is still work to do when it comes to infant mortality, especially in Black and other minority communities.
"Right here in Detroit, we have some of the highest maternal mortality rates in the world," said Dr. Wisdom. "There has been much progress through the years and even more so in the last few years as the government has deepened its commitment to addressing infant mortality and healthcare disparities."
Courtney Anderson is currently on her third pregnancy with WIN Network: Detroit's program, opting for WIN's group prenatal care model over traditional prenatal care.
"Being a part of this was very important to me. I didn't feel like I was figuring things out on my own. I felt like I had people who could make sure my baby was OK, that I was OK and would be there if we needed them. I felt like I had people who knew what I was going through," Anderson said.
The ribbon-cutting of the new center coincided with a call to deepen and focus policy and partnerships on caring for families at risk of infant mortality and poor maternal outcomes. Henry Ford has relied on the support of sponsors, lawmakers and non-profits to run the impactful program.
Dr. Wisdom praised the U.S. Department of Health and Human Services $350 million commitment to strengthen maternal and child health across the nation. One of the major actions proposed in the White House Blueprint that has already been acted upon is expanding Medicaid through 12-months postpartum, up from 60 days. She also thanked the Michigan Department of Health and Human Services for working to establish Medicaid reimbursement for doula services and for community health workers.
The U.S. Department of Health and Human Services recently announced the availability of $4.5 million for hiring, training, certifying and compensating community-based doulas in areas with high rates of adverse maternal and infant health outcomes.
Also in attendance were: U.S. Reps. Debbie Dingell and Rashida Tlaib; Denise Fair-Razo, the Chief Public Health Officer for the City of Detroit; Janine Boyd, US Dept. of Health & Human Services - Regional Director, Region 5; Bishop Edgar Vann, Second Ebenezer Church and a member of the Henry Ford Health Board of Directors; Dr. D'Angela Pitts, Henry Ford Health - Maternal Fetal Medicine Physician & Director of Maternal Health Equity; Kiddada Green, Black Mothers' Breastfeeding Association - Founding Director; Dr. Marijata C. Daniel-Echols is a program officer for the W.K. Kellogg Foundation
LaShawn McIver M.D., Director, Office of Minority Health, Centers for Medicaid and Medicare Services and Rev. Que English, US Dept. of Health & Human Services - Director of Neighborhood & Faith-based Partnerships spoke of the White House's deepening and widening efforts to improving the lives of women and babies adversely affected by health inequities and social determinants of health. They also endorsed research and data-driven efforts like WIN Network: Detroit as paths to save more babies and moms and move improve the U.S. infant mortality rate.
U.S. Senator Debbie Stabenow emphasized the need to address the unacceptable disparities in maternal health care for communities of color, an effort that she has been leading in Congress.
"There's nothing more important than making sure our youngest Michiganders and their families have a strong, healthy start,"said Senator Stabenow. "I've been laser-focused on improving the health of moms and babies my entire career. Today's investment from Henry Ford will ensure moms and babies have the care they need and will save lives."
Lt. Gov. Garlin Gilchrist II thanked the moms in attendance and let them know that they have support from state officials.
"We must work hard to invest in maternal and infant health in Michigan and put an end to infant mortality," said Lt. Gov. Gilchrist said. "That is why Governor Whitmer and I established Healthy Moms, Healthy Babies, implemented paid leave for state employees, and signed a budget that trains community doulas and reimburses community health workers. WIN Network's Group Prenatal Care Center will make a difference for women and families, and Governor Whitmer and I are thankful for the partnership of WIN Network and Henry Ford Health. Together, let's keep working hard to invest in maternal and infant health."
Dr. Richard Leach, chair of the Department of Women's Health at Henry Ford, related his experience with patients and fellow physicians who often lack the means to receive the care they need.
"As a physician focused on women's health, I see the detrimental effects of inequitable healthcare and access to care," Dr. Leach said. "I also see the many people who are committed to changing this scenario. I believe that building programs that target and support populations affected by inequities will lead to better lives for these patients and families and for society at large."
MEDIA CONTACT: Kim North Shine / 313-549-4995 / kshine2@hfhs.org
About Henry Ford Health
Serving communities across Michigan and beyond, Henry Ford Health is committed to partnering with patients and members along their entire health journey. Henry Ford Health provides a full continuum of services – from primary and preventative care, to complex and specialty care, health insurance, a full suite of home health offerings, virtual care, pharmacy, eye care and other healthcare retail.
It is one of the nation's leading academic medical centers, recognized for clinical excellence in cancer care, cardiology and cardiovascular surgery, neurology and neurosurgery, orthopedics and sports medicine, and multi-organ transplants. Consistently ranked among the top five NIH-funded institutions in Michigan, Henry Ford Health engages in more than 2,000 research projects annually. Equally committed to educating the next generation of health professionals, Henry Ford Health trains more than 4,000 medical students, residents and fellows every year across 50+ accredited programs.
With more than 33,000 valued team members, Henry Ford Health is also among Michigan's largest and most diverse employers, including nearly 6,000 physicians and researchers from the Henry Ford Medical Group, Henry Ford Physician Network and Jackson Health Network.
The health system is led by President and CEO Robert G. Riney and serves a growing number of customers across 250+ locations throughout Michigan including five acute care hospitals, two destination facilities for complex cancer and orthopedics and sports medicine care, three behavioral health facilities, primary care and urgent care centers.
About Women-Inspired Neighborhood Network
WIN Network: Detroit at Henry Ford Health is the nation's first program to pilot an enhanced model of prenatal care where Community Health Workers and Certified Midwives are co-facilitators. In groups clustered by gestational age, participants learn the CenteringPregnancy® curriculum with an added focus on social determinants of health. CHWs conduct home visits through babies' first birthdays, and continuously guide women and birthing parents to resources.