Henry Ford-GoHealth Urgent Care Names New Medical Director
November 15, 2022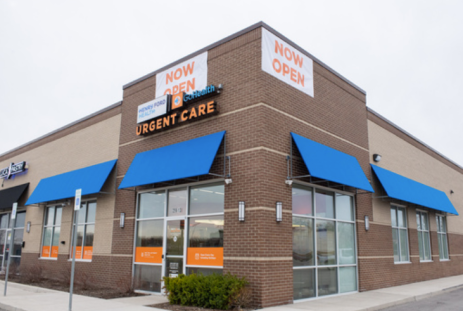 DETROIT, Mich. (November 16, 2022) – Henry Ford-GoHealth Urgent Care has appointed Doru Bali, MD, MBA, FACEP as its new medical director. A proven healthcare leader, Dr. Bali brings 20 years of experience and a deep commitment to his community to the position.
As medical director Dr. Bali will manage all clinical operations and outcomes and oversee quality and control and risk management, while ensuring the high level of patient care the community expects from Henry Ford Health providers.
"We're pleased to welcome Dr. Bali to the Henry Ford Medical Group," said Diane George, DO, Chief Medical Officer of Primary Care for the Henry Ford Medical Group. "His extensive experience as a clinical leader, his commitment to his community and his patients, and his deep roots in the community will serve Dr. Bali well as he leads the team of Henry Ford Health providers working in our urgent care centers."
Dr. Bali grew up in Dearborn Heights, trained at Wayne State University School of Medicine and has served as a clinical leader at local healthcare institutions.
"As a long-standing resident and healthcare leader in Metro Detroit, Dr. Bali is driven by his passion for improving the health of the region and serving its most vulnerable populations," said Jonathan Zipkin, Chief Medical Officer, GoHealth Urgent Care. "We are excited to welcome Dr. Bali to our team and look forward to expanding services to new communities under his clinical leadership."
He previously served as the Vice Chief of Huron Valley-Sinai's Emergency Department, where he participated on the Medical Staff Operations Committee, Physician Leaders Committee, ICU/Interventional Cardiology/Surgery Quality Improvement Committees, Medicine Clinical Excellence Committee, and Pharmacy and Therapeutics Committee. He helped develop the Level 3 Trauma Designation Program, working with the State of Michigan and hospital administration to improve the delivery of trauma services.
"Urgent care has historically been viewed as costly and of lower quality than other models," said Dr. Bali. "The Henry Ford-GoHealth Urgent Care model provides Metro Detroit with affordable, on-demand care that offers patients convenience and high-quality care. I'm thrilled to join as medical director and continue improving the health of people living and working in Metro Detroit."
Dr. Bali completed his residency in Emergency Medicine at Detroit Receiving Hospital. He also received a Physician Executive Master of Business Administration (MBA) from the University of Tennessee. Dr. Bali is board certified by the American Board of Emergency Medicine and is a member of the American College of Emergency Physicians, the Society of Academic Emergency Medicine and the Michigan College of Emergency Physicians.
Dr. Bali enjoys the outdoors and camping in Northern Michigan. He lives in Marysville with his wife and three children.
Dr. Bali joins Henry Ford-GoHealth Urgent Care as it Expands Network of Centers
Henry Ford-GoHealth Urgent Care has opened 10 centers throughout Metro Detroit since announcing their partnership in October 2021. Those centers are in Bloomfield Hills, Bruce Township, Canton, Chesterfield, Clinton Township, Dearborn Heights, Fraser, Livonia, Southgate and West Bloomfield. Additional locations are expected to open in Berkley, St. Clair Shores, Taylor and Southfield in the next few months.
"Our partnership is bringing high-quality urgent care centers directly to our patients' neighborhoods," said Doug Ditri, Henry Ford Health's Chief Operating Officer of System Ambulatory Operations. "We're excited to expand our reach to more communities across the region."
Henry Ford-GoHealth Urgent Care provides treatment for non-life-threatening illnesses and injuries, on-site X-ray services and COVID-19 testing. Healthcare providers at Henry Ford-GoHealth can also prescribe and fill COVID-19 oral antiviral treatments if clinically indicated after evaluation. The centers serve the community from 8 a.m. to 8 p.m. Monday through Friday and from 9 a.m. to 5 p.m. Saturday and Sunday.
People seeking care can be seen quickly and easily by walking into any Henry Ford-GoHealth Urgent Care center or going online to save a spot and pre-register. In addition to treating non-life-threatening illnesses and injuries, centers offer sports physicals for kids and flu vaccines.
###
MEDIA ONLY may contact: mediarelations@hfhs.org
About GoHealth Urgent Care
GoHealth is an on-demand consumer-centric care platform that serves as the digital and physical front door to the health care ecosystem. At GoHealth, we aim to provide timely, accessible and high-quality on-demand care to patients, both virtually and in person, through our technology-enabled and data-driven approach to care and partnerships with market-leading health systems. GoHealth operates over 200 on-demand care centers in the greater New York metropolitan area; the Portland, Oregon-Vancouver, Washington, metropolitan area; the San Francisco Bay Area; Hartford and Southeastern Connecticut; Winston-Salem and Charlotte, North Carolina; St. Louis and Springfield, Missouri; Oklahoma City; Northwest Arkansas; Delaware and Maryland; the greater Detroit, Michigan metropolitan area; the greater Houston, Texas metropolitan area and Northern Virginia. GoHealth Urgent Care is a portfolio company of TPG Growth, the middle market and growth equity investment platform of TPG, which has more than $114 billion of assets under management.
About Henry Ford Health
Serving communities across Michigan and beyond, Henry Ford Health is committed to partnering with patients and members along their entire health journey. Henry Ford Health provides a full continuum of services – from primary and preventative care, to complex and specialty care, health insurance, a full suite of home health offerings, virtual care, pharmacy, eye care and other healthcare retail.
It is one of the nation's leading academic medical centers, recognized for clinical excellence in cancer care, cardiology and cardiovascular surgery, neurology and neurosurgery, orthopedics and sports medicine, and multi-organ transplants. Consistently ranked among the top five NIH-funded institutions in Michigan, Henry Ford Health engages in more than 2,000 research projects annually. Equally committed to educating the next generation of health professionals, Henry Ford Health trains more than 4,000 medical students, residents and fellows every year across 50+ accredited programs.
With more than 33,000 valued team members, Henry Ford Health is also among Michigan's largest and most diverse employers, including nearly 6,000 physicians and researchers from the Henry Ford Medical Group, Henry Ford Physician Network and Jackson Health Network.
The health system is led by President and CEO Robert G. Riney and serves a growing number of customers across 250+ locations throughout Michigan, including five acute care hospitals, two destination facilities for complex cancer and orthopedics and sports medicine care, three behavioral health facilities, primary care and urgent care centers.