This holiday season, many people found new kitchen tools, gadgets or small appliances under the tree. Kitchen items like the Instant Pot® were rated as some of the hottest gifts of 2017 and broke Black Friday sales records at retailers like Amazon.
If you received a new kitchen gadget recently, you may be ready to start testing out its features and trying some new recipes. We asked registered dietitian Julie Fromm for tips on how to make the best use of some these trendy tools to eat healthier.
Instant Pot:
The Instant Pot (or similar versions of multi-cookers available from other brands) boasts the ability to replace several other countertop appliances because it functions as a slow cooker, pressure cooker, steamer, yogurt maker and rice cooker.
One of the big features of this appliance is that it can be a time-saver, according to Fromm. With our busy schedules, many of us fall prey to eating too much take-out food or processed-food quick fixes. Having a healthy meal going in a slow cooker all day can feel like a lifesaver. (Try white-bean chicken chili, vegetarian cabbage soup or pulled chicken sliders.)
"I love using my slow cooker, but I really like that the Instant Pot allows you to caramelize aromatic vegetables like onions, meats and other foods by sautéing them right in the same pot before starting the slow-cook process," says Fromm. "This adds flavor to the slow cooker dishes."
The pressure cooking function means many meals can cook much faster than in an oven or on a stovetop. So, if you're not always great about planning ahead, having a pressure cooker at the ready can be helpful. You can even take meat and vegetables right out of the freezer and cook them in the Instant Pot.
Other features like the yogurt maker could help you save money if you frequently buy Greek yogurt. Protein-rich, low-fat plain yogurt is a favorite of dietitians – as part of a healthy breakfast or snack and in recipes like Frozen Yogurt Berry Bites or Apple-Walnut Bread.
Whole grains provide fiber and nutrients in your diet, so using the rice cooker function to prepare brown rice, quinoa, barley, farro and other whole grains is another cool feature.
Cooking dried beans and steaming fresh vegetables are other great uses.
Spiralizer: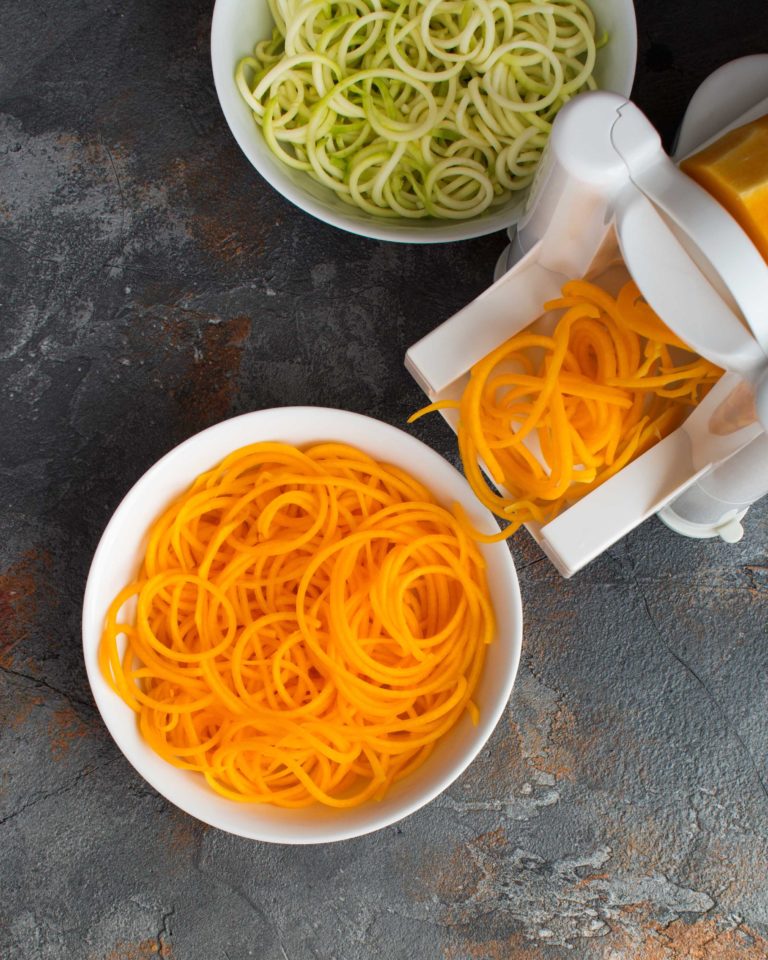 Spiralized vegetables are a big food trend right now, and these gadgets range in price points and sizes (from small handheld ones that only cost a few dollars to more elaborate versions).
"The best part about this tool is that it gets people eating more vegetables," says Fromm.
Zucchini, winter squash, carrots, potatoes, sweet potatoes, beets and more work well in the spiralizer.
You can use spiralized veggies in place of pasta in many dishes, which is nice if you are gluten-free or just looking to cut down on carbs or add nutrition to dishes, like pad Thai or chicken parmesan with noodles.
Most spiralizers are pretty easy to use, so they are a very kid-friendly kitchen activity that can get children excited about eating their veggies.
If you're looking to buy a spiralizer, Fromm recommends choosing one that meets your budget and needs. For instance, are you using it make small portions for one or two people, or preparing a noodle dish for a family? Also, consider looking for one that wastes the least amount of the vegetable you're using because some spiralizers can leave a big portion of it behind.
Air fryer:
There are a few versions of air fryers that have hit the market recently, promising to "fry" foods while using a fraction of the oil. These machines use hot air circulating around the food to simulate the taste and texture of fried foods.
Using less oil obviously allows you to consume less calories and fat than you would with foods cooked in a regular fryer. There's also no messy used oil to dispose of afterward or unpleasant odor of fried food lingering for hours.
Air frying vegetables can be a great way to add texture and flavor for picky eaters.
If you don't have an air fryer or have been thinking about getting one, Fromm remains somewhat skeptical about adding this to your collection. She says you can probably achieve similar results by getting an oil mister and lightly spritzing your food with vegetable oil and baking it in the oven them instead. Use a mister or spritzer designed for oil, rather than just a standard spray bottle, to prevent the oil from getting clogged.
Specialized Blenders:
Different types of blenders seem to end up on a lot of holiday wish lists – from high-powered, top-of-the-line versions, like the Vitamix®, to small blenders like the NutriBullet® to hand-held immersion blenders. Each have their benefits and are often a great for making soups and smoothies (another popular choice for kids), which help you eat more fruits and veggies and stay hydrated. They can also can be good for making homemade versions of healthy dips like salsa, hummus, etc.
Fromm notes that you should follow the safety instructions on any of these new devices. Some, like the NutriBullet, are not intended for blending hot liquids and can actually be dangerous.
Soda Makers:
SodaStream® or other home soda makers let you add carbonation to liquids and turn tap water into sparkling water. So, if you find it difficult to drink enough water throughout the day or are trying to kick a pop-drinking habit, this may be a great tool for you. Keep it fun by flavoring it to your taste with fruit.
"I have one of these and love that makes drinking water more enjoyable for me," says Fromm.
Other Useful Kitchen Gadgets or Tools:
If you are looking to hit some after-Christmas sales or want to find tools to help you cook more and eat healthier, one of Fromm's best recommendations is making sure you have a good, utilitarian knife.
"This is one of the best gifts to give someone who is new to cooking," she says. "It's simple but is the best kitchen tool there is, and it doesn't have to be expensive."
A couple of other tools she recommends:
Microplane zester: This inexpensive tool allows you to add flavor (but not added fat, sodium and calories) to dishes. Use it for zesting citrus, or shaving chocolate or spices like ginger or nutmeg.
Food-savers: When you're making the effort to eat healthy, leftovers can be your best friend. You also tend to buy a lot of produce, which has a limited shelf-life. So reusable or environmentally friendly food storage containers, silicone food "huggers" that adhere to produce, and other food-saving tools are often a good investment.
Do I Need These Tools to Eat Healthy?
While getting new gadgets can be fun, they are by no means necessary for maintaining a healthy diet.
"When people get these new devices, they get excited to try new recipes and experiment with their features," says Fromm. "Anything that gets people in the kitchen and cooking more is a good thing."
However, she notes that the basic advice for better nutrition holds true – find recipes or cooking methods that help you incorporate more fruits and vegetables, whole grains and lean protein into your diet. Cut down on processed food or fast food. Read food labels. Try to plan out your meals ahead of time.
All of these steps will help you on your journey to better health, whether your trendy gift becomes your favorite, go-to tool or ends up collecting dust in the back of your cabinets.
---
Julie Fromm, R.D., is a community dietitian with Henry Ford Health's Generation With Promise program, which focuses on empowering youth and families in the community to increase their consumption of healthy foods and physical activity and balance caloric intake.