New App Rx: Game Teaches Kids Healthy Eating, Physical Activity
October 6, 2014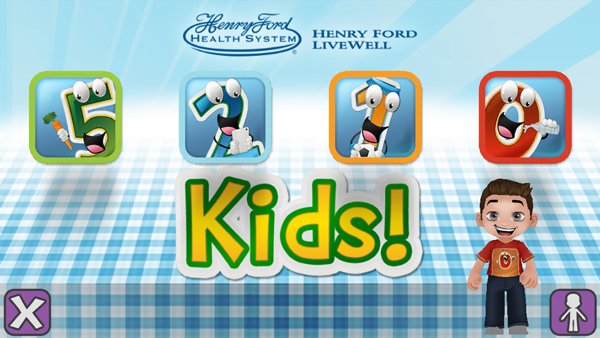 DETROIT – It's not always easy for young kids to understand the importance of eating fruits and vegetables throughout the day, or why they should turn off the TV and instead go play.
But a new app from Henry Ford Health System is hoping to change that by teaching kids through fun games and activities about making healthy food choices and being more active during the day.
The app is free and available for download in the App Store for Android and IOS devices.
"We're essentially meeting kids where they are by offering them an app with games that are fun and engaging," says Sharon Milberger, ScD, director of Henry Ford LiveWell. "By applying gaming principles, the app reinforces healthy behavior with game points to help kids learn how to make long-term, healthy decisions."
Called "5-2-1-0 Kids! Powered by Henry Ford LiveWell," the app was developed by Southfield, Mich.-based Pixo Group with input from Henry Ford pediatricians, nutritionists and LiveWell health experts. It's geared toward kids ages 4-9.
The new app is based on the 5-2-1-0 education campaign from Maine's Childhood Obesity Prevention Program Let's Go! To bring awareness to daily nutrition and physical activity recommendations for children – Five servings of fruits and vegetables, two hours or less of recreational screen time (TV, video games, computer), one hour of physical activity and zero sugar-sweetened drinks. 5-2-1-0 is endorsed by the American Academy of Pediatrics.
Henry Ford pediatricians and family medicine physicians can now prescribe the app for all young patients during their clinic visits.
"Obesity in children ages 6-11 has increased almost five fold in the last 30 years. And, nearly one in three children in Michigan is overweight or obese," says Henry Ford pediatrician Stacy Leatherwood, M.D.
"The app is an easy way for us to put some of our healthy living messages into play by showing kids how healthy foods fuel fun and encouraging them to get up and move through interactive music, dancing and playtime."
And, the app is mindful of the two-hours or less of screen time encouraged by 5-2-1-0. It includes parental controls to monitor activity and limit screen time. The four mini-games included in the app feature characters based on all four steps of 5-2-1-0:
5: Hi5 shows players how to add fruits and veggies to all of their meals. With this game, players catch falling food on their plate ranging from fruits and vegetable to cake and candy. They earn points for collecting healthy foods but lose points if they catch the other foods. Players then add the fruits and veggies they've caught to make up plates to eat for breakfast, lunch dinner and a snack.
2: Twoey's game encourages kids to get active by offering alternatives to screen time. When players advance to different squares on a game board they're given an activity to complete – draw a picture, play rock-paper-scissors, have an indoor tea party or picnic, or see who can yell the loudest. Players only receive full points for an activity when parents verify it took place. The game is for up to four players.
1: Uno gets kids up and dancing. Players create their own dance routines on a customized dance floor to go along with their favorite songs. Using the camera on their smart phone, players dance along with their avatar and receive points for following the dance moves. All of the dance moves – marching in place and the swim – were selected to be a fun way to increase heart rate and maximize physical activity time.
0: Zip shows kids why it's so important to drink milk and water instead of sugary drinks. As the player's avatar travels along a path, he's given a choice to select milk, water, a juice box or soda. When players choose the healthier option, their avatar moves from walking to running. But if they pick a sugary drink, the avatar will fall, stumble or slow down. As players continue to make healthy choices, they gain speed and points.
All four mini-games include scientifically rooted audio cues and text to make messages understandable and meaningful to young players
Once downloaded, parents are directed to Henry Ford's 5-2-1-0 website with links to healthy recipes, activities and other resources to help follow the 5-2-1-0 message.
Parents also can help their child customize an avatar with eye color, hair and clothing to look like the players in real life.
"Our hope is that the app will encourage quality family time. When parents are involved, it really helps reinforce healthy behavior," says Dr. Leatherwood.
The creation of the 5-2-1-0 Kids! App was made possible through a gift from the creators of the Oogieloves (2013) movie to expand the 5-2-1-0 message to a younger audience.