Henry Ford Health System and Kroger Forge New Partnership to Help Families Eat Healthier
June 1, 2016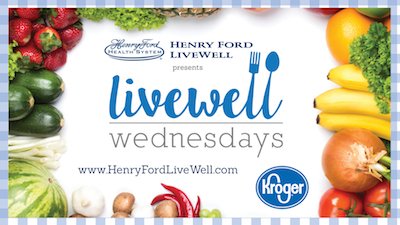 FOR IMMEDIATE RELEASE Detroit – What is a healthy substitution for oil and sugar when you are baking? What fresh foods are most affordable? Are there recipes that kids will love that are still healthy? Henry Ford Health System and Kroger have announced a new partnership designed to answer these kinds of questions and help consumers eat and shop healthier.
Henry Ford LiveWell Wednesdays debuts June 1 at all 126 Kroger stores throughout Michigan. Every Wednesday, Henry Ford will provide Kroger shoppers with a delicious, healthy recipe developed by registered dietitian nutritionists. Shoppers will receive a brochure including a list of all ingredients needed for the recipe and a link to a video cooking demonstration.
Henry Ford LiveWell experts will also be onsite every Wednesday at four designated Kroger locations:
Commerce Township – 2905 Union Lake Rd.
Dearborn – 15255 Michigan Ave.
Shelby Township – 14945 23 Mile Rd.
Southgate – 13333 Eureka Rd.
"We are so excited to be working with a wonderful community partner like Kroger," says Kimberlydawn Wisdom, MD, Senior Vice President of Community Health & Equity and Chief Wellness and Diversity Officer at Henry Ford Health System. "We view wellness as a lifelong journey – a daily commitment to making the right choices when it comes to things like healthy eating. Having a presence inside every Kroger in the state of Michigan is a great way to reach the people in the communities we serve."
Henry Ford LiveWell experts will be available at the designated Kroger stores every Wednesday from 10 a.m.-1 p.m. through September to answer questions, help shoppers understand food labeling and explain how to make healthy substitutions. They will also provide counsel on what to consider when cooking for people with food allergies, current food trends, and what to always keep in the freezer, refrigerator and pantry.
"Providing customers nutritious and delicious food is what we do every day," said Rachel Hurst, consumer affairs manager, The Kroger Co. of Michigan. "We welcome the opportunity to partner with Henry Ford Health System to help customers learn to make healthy choices and prepare foods for the greatest taste and nutrition."
For more information on healthy recipes, go to HenryFordLiveWell.com.
MEDIA CONTACTS:
Brenda D. Craig
Director, Media Relations
Henry Ford Health System
(313) 283-8331
bcraig3@hfhs.org
Rachel Hurst
Consumer Affairs Manager
The Kroger Co. of Michigan
(248) 536-1523
Rachel.Hurst@Kroger.com
About Henry Ford Health System and Henry Ford LiveWell
Henry Ford Health System is a six-hospital system headquartered in Detroit, Michigan. It is one of the nation's leading comprehensive, integrated health systems, recognized for clinical excellence and innovation. Henry Ford Health System provides both health insurance and health care delivery, including acute, specialty, primary and preventive care services backed by excellence in research and education. The system is a 2011 Malcolm Baldrige National Quality Award recipient. Visit HenryFord.com to learn more.
Established in 2012, Henry Ford LiveWell is a virtual Wellness Center of Excellence designed to provide a unified voice for all Henry Ford Health System wellness initiatives and programming, and, create a consistent and exceptional wellness experience. For more information, please visit our website: HenryFordLiveWell.com.
About Kroger
Incorporated in Michigan in 1909 and headquartered in Novi, The Kroger Co. of Michigan includes 19,000 associates, 126 Kroger stores, 69 fuel centers, 103 pharmacies and the Michigan Dairy.
Kroger, one of the world's largest retailers, employs more than 375,000 associates who serve customers in 2,640 supermarkets and multi-department stores in 34 states and the District of Columbia under two dozen local banner names including Kroger, City Market, Dillons, Food 4 Less, Fred Meyer, Fry's, Harris Teeter, Jay C, King Soopers, QFC, Ralphs and Smith's. The company also operates 786 convenience stores, 320 fine jewelry stores, 1,240 supermarket fuel centers and 38 food processing plants in the U.S. Recognized by Forbes as the most generous company in America, Kroger supports hunger relief, breast cancer awareness, the military and their families, and more than 30,000 schools and grassroots organizations. Kroger contributes food and funds equal to 200 million meals a year through more than 80 Feeding America food bank partners. A leader in supplier diversity, Kroger is a proud member of the Billion Dollar Roundtable and the U.S. Hispanic Chamber's Million Dollar Club.