Transplant Patient to Use Blind Painting Technique to Raise Awareness at 50th Anniversary Gala
October 25, 2018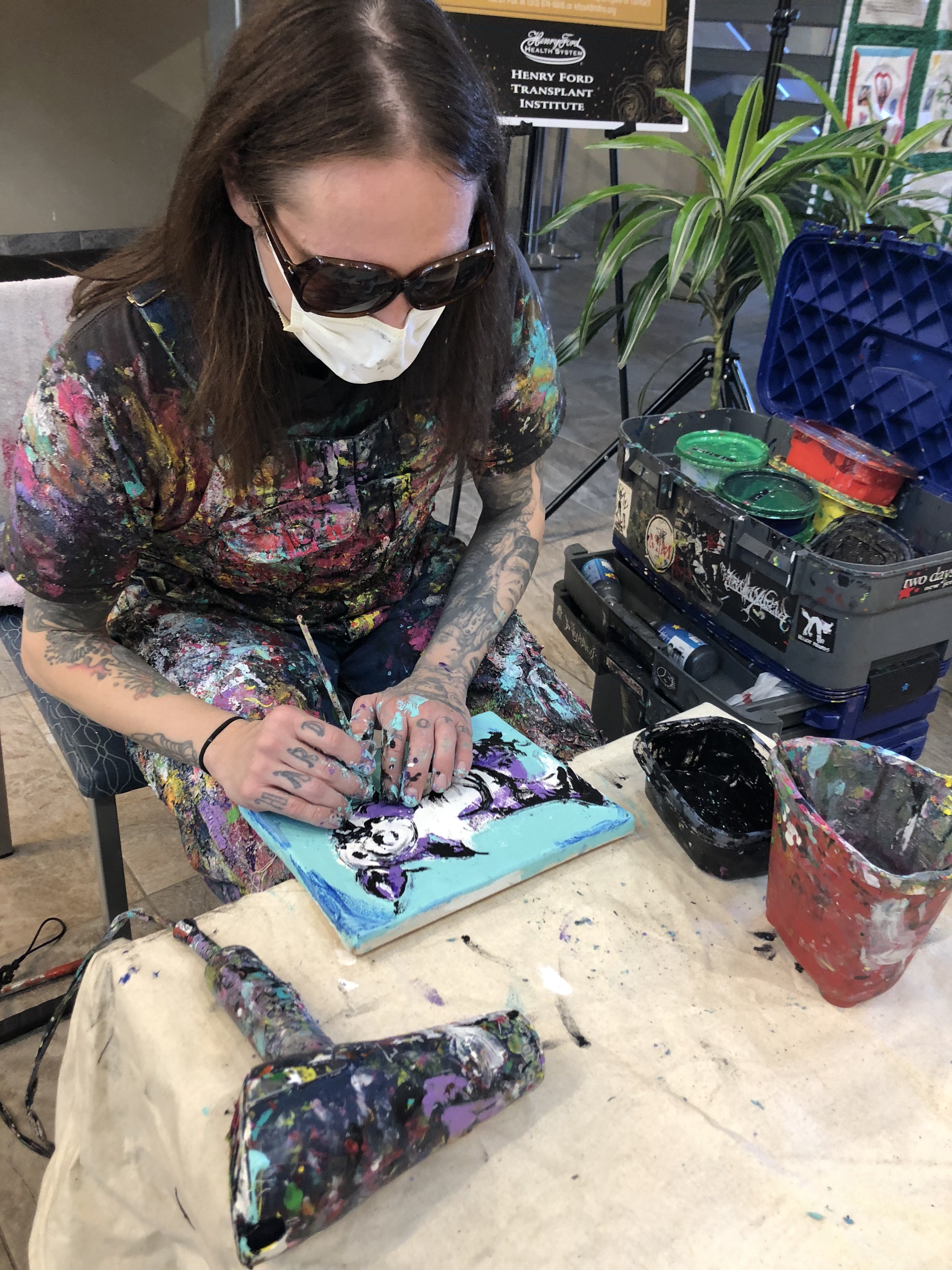 DETROIT – Artist and Henry Ford lung transplant patient Brendan Patrick is the picture of optimism, approaching challenges with wit and a can-do attitude.
The 37-year-old Ferndale man has had more challenges than most. Born with club feet. Diabetes. A diagnosis of cystic fibrosis that resulted in a spinal fusion at age 15 and a double lung transplant at Henry Ford Hospital in April 2008 at age 27. Then, a cystic fibrosis complication stole Brendan's vision, just as he blossomed as a Detroit-area tattoo artist.
In spite of all of these issues, Brendan has always had a great sense of humor and an incredibly positive outlook. He turned to music – but it wasn't enough. After a grieving process, he began painting again. With the help of Henry Ford occupational therapists, Brendan was able to learn to live independently. And a suggestion by one led Brendan to develop the raised paint method he uses to create his art. Now the edgy, insightful paintings his eyes will never see serve as his legacy to others, sending a message of hope and perseverance. Brendan's work has been featured in gallery shows across the country, sold to benefit cystic fibrosis research and treatment development. And he still plays his bass in the band "Wretched Sights," along with hosting the podcast "No One is Happy," dealing with depression through friendship and comedy.
"We are truly inspired by Brendan exceptional attitude and abilities, especially in light of the many challenges he has faced," said Henry Ford Transplant Institute lung transplant specialist Dr. Lisa Allenspach. "He is an example to us all, particularly as a shining illustration of the gift of life."
Brendan will be painting on Nov. 2 at the 50th Anniversary celebration of the Henry Ford Transplant Institute. The "Gardens of Life" Gala, expecting to draw upwards of 700 guests at the MGM Grand in Detroit, will serve as a backdrop for his creation. The painting will ultimately hang in the Transplant Institute on the 16th Floor of Henry Ford Hospital.
"We are honored that Brendan is helping us mark 50 years of saving lives at the Henry Ford Transplant Institute," said internationally recognized liver transplant surgeon Dr. Marwan Abouljoud, director of the Henry Ford Transplant Institute. "And we hope his success will inspire people to join the Michigan Organ Donor Registry, or to find out more about living donation."
As part of the 50th Anniversary, the Henry Ford Transplant Institute this year created the Henry Ford Center for Living Donation, the beneficiary of the Gala. The Center provides concierge-level service to those who selflessly decide to donate a kidney or part of their liver to a family member, friend or total stranger. About 6,000 people in the United States make this decision each year. Yet much of the organ donation process focuses on the recipient. The Henry Ford Transplant Institute has changed that, with the creation of the ground-breaking center, led by Henry Ford kidney transplant surgeon Dr. Jason Denny.
For gala tickets, to learn more about 50 years of transplant at the Henry Ford Transplant Institute and to see historic photos, visit www.HenryFord.com/transplant50. For more information about the Center for Living Donation, please visit www.HenryFord.com/livingdonation.
To join the Michigan Organ Donor Registry, please visit www.golm.org/go/hfhs.
Media contact:
Tammy Battaglia
Public Affairs, Henry Ford Health System
248-881-0809 cell/text
[email protected]