Study Links Shoulder Ultrasound Brightness with Type 2 Diabetes
November 19, 2018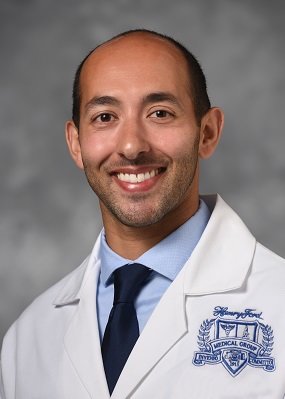 DETROIT – Henry Ford Hospital researchers may have unknowingly happened on a new predictor of type 2 diabetes as part of a new ultrasound shoulder study.
The predictor may be an ultrasound of the deltoid muscle, which researchers found appears much brighter on diabetic patients than on obese nondiabetic patients. Researchers theorize the brighter appearance is due to low levels of glycogen in the muscle caused by patients' insulin resistance.
The study is being presented at the annual meeting of the Radiological Society of North America Nov. 25 – 30 in Chicago.
Imaging the deltoid muscle by ultrasound may be an "opportunistic tool" for predicting prediabetes and diabetes and diagnosing patients who may be unaware they have the disease, says Steven Soliman, D.O., a Henry Ford musculoskeletal radiologist and the study's lead author.
"Our study shows that diabetic patients are having changes within their deltoid muscles, demonstrated by a bright appearance on ultrasound, indicating that maybe earlier treatment is warranted," Dr. Soliman says. "And patients who may be undiagnosed and missed, such as prediabetics or diabetics who haven't been diagnosed yet, may be able to be diagnosed earlier."
The study is believed to be the first in the United States to demonstrate a link between type 2 diabetes and this bright appearance of the deltoid muscle in diabetic patients. Researchers found that this bright appearance had an 89 percent predictive value of "definite diabetes."For prediabetes patients, the bright appearance was a predictor of either "definite diabetes" or "suspected diabetes."
Diabetes is the seventh leading cause of death in the United States, according to the American Diabetes Association. In 2015, of the more than 30 million Americans who had diabetes, more than 7 million people were undiagnosed. In 2017, diabetes accounted for $237 billion in direct medical costs.
The use of musculoskeletal ultrasound, especially shoulder ultrasound, has increased sharply in the past 20 years across the country. At Henry Ford, diabetic patients typically undergo shoulder ultrasound because they are more prone to rotator cuff injuries.
The Henry Ford study was borne from an emerging trend observed for at least 10 years by Dr. Soliman and his musculoskeletal radiology colleagues. They found that the number of ultrasound scans with the brighter, or hyperechoic, appearance of the deltoid muscle in diabetics was "out of proportion" to those seen in obese nondiabetic patients, even though the hyperechoic appearance is commonly seen in obese patients.
In healthy patients, the deltoid muscle appears darker on the ultrasound when compared to the underlying rotator cuff tendon. For diabetic patients, the gradient is just the opposite, Dr. Soliman says.
For their retrospective study, researchers sought to evaluate whether the bright appearance of the deltoid muscle was associated with diabetes or obesity. Of the 186 patients involved, 137 had type 2 diabetes and 49 were obese and nondiabetic.
Researchers evaluated the results by assigning one of three diagnoses: definite diabetes, suspected diabetes or normal.
Dr. Soliman says the findings have immediate implications for clinicians.
"We believe you could use shoulder ultrasound as a supplemental screening option to evaluate for the appearance of a hyperechoic deltoid muscle," Dr. Soliman says. "This could be used to evaluate for the multitude of patients who do not know they have diabetes."
###
MEDIA CONTACT: David Olejarz / David.Olejarz@hfhs.org / 313.874.4094