Understand Your Risk: A Community Conversation About Breast Cancer in Women and Men
September 5, 2019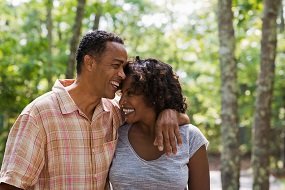 DETROIT – The Henry Ford Cancer Institute Breast Cancer Program and Team Angels Foundation will host a free community event designed to help women – and men – understand their risk for breast cancer from 6-7 p.m. Friday, Sept. 13 at the Crowne Plaza Detroit Downtown Riverfront.

The event will feature a presentation from Dr. Kevin Hughes, a nationally-recognized expert in breast cancer risk assessment and genetics, and breast cancer survivor Bill Rands and his wife, Happy. Dr. Hughes has been actively involved in the diagnosis and treatment of breast cancer for more than 30 years. He is well-known for his research in finding the least amount of treatment necessary to obtain the best results, running a national trial on breast cancer in older women. The results have made it now a standard practice to avoid radiation in most older women with early breast cancer.

A retired financial analyst and aviator, Rands was diagnosed with breast cancer in 1999. He was concerned when he discovered a lump in his breast while showering, which he discussed with his doctor during his annual physical. Once diagnosed, he underwent a mastectomy performed by Dr. David Nathanson, breast surgical oncologist at Henry Ford Cancer Institute, followed by chemotherapy. This year, he is celebrating his 20th year as a breast cancer survivor.

At the event, attendees will learn:
How family history impacts their breast cancer risk.
Why men need to know their breast cancer risk, too.
When to seek genetic testing and breast screening.
Hors d'oeuvres and refreshments will be served. This event is free to attend, but online registration is required. To register, please visit henryford.com/BreastHealthEvents.
###
MEDIA CONTACT: Jeff Adkins / (586) 307-2027 / jadkins6@hfhs.org