Dr. Talia Golan Named Recipient of the Mort and Brigitte Harris Pancreas Cancer Award
October 17, 2019
DETROIT – The Henry Ford Pancreatic Cancer Center (HFPCC) and Henry Ford Innovation Institute have named Talia Golan, M.D., head of the Sheba Pancreatic Cancer Center, the largest pancreatic cancer care center in Israel, the recipient of the inaugural Mort and Brigitte Harris Pancreas Cancer Award, awarded to a pancreatic cancer specialist who demonstrates exceptional courage and devotion in the fight against this devastating disease.

In choosing an award recipient, several factors were considered, including a pattern of leadership and ongoing service to the fight against pancreas cancer, recognized contributions in pancreas cancer research, and/or successful development of novel technologies or therapies that advance pancreas research, said Scott Dulchavsky, M.D., Ph.D., CEO of the Henry Ford Innovation Institute.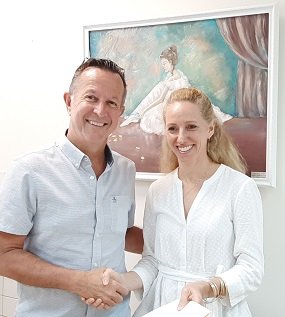 Dr. Golan was selected for her research project titled "Early PDAC detection by novel MRI method using artificial intelligence machine learning." As the award recipient, she was awarded a $50,000 grant to support her research.

"What sets Dr. Golan's project apart from others is her vision of using radiographic information to ascertain whether there might be findings that could be used for early detection of pancreas cancer in high-risk patients," said David Kwon, M.D., director of the HFPCC. "We are excited about the work Dr. Golan is doing, and believe this research is synergistic with ongoing projects at the Henry Ford Pancreas Cancer Center."

"Pancreatic ductal adenocarcinoma, or PDAC, carries a poor prognosis and the five-year survival rate is below nine percent for all stages. Early detection followed by surgery offers a hope for cure, but unfortunately, PDAC symptoms usually don't appear until it is too late," said Dr. Golan. "A unique integration of pancreatic diffusion-tensor-imaging, clinical data, and tailored deep learning algorithms hold promise in developing an effective technique for early PDAC detection, which would offer a better surveillance option for high-risk individuals, including BRCA mutation carriers."

Dr. Golan is a prolific pancreatic cancer researcher, recently being named among Forbes Israel's 2019 list of "50 Most Influential Women in Israel." The prestigious magazine cited Dr. Golan's headline-making research into a therapeutic regimen known as POLO, which showed promising results in treating deadly pancreatic cancer in patients with the BRCA 1 & 2 mutation.

The Mort and Brigitte Harris Pancreas Cancer Award was created in honor of Brigitte Harris, who passed away in 2017 due to pancreatic cancer. Mort Harris, her husband, donated $20M to Henry Ford Cancer Institute in 2018, which led to a subsequent gift from an anonymous donor to launch the Henry Ford Pancreatic Cancer Center. This gift has allowed the HFPCC to collaborate with other leading national and international organizations, with the ultimate goal of identifying means to detect pancreatic cancer at an earlier stage. Pancreatic cancer remains one of the deadliest forms of cancer, with a five-year survival rate of only eight percent.

To learn more about the HFPCC, visit henryford.com/PancreaticCancer.
###

MEDIA CONTACT: Jeff Adkins / (586) 307-2027 / jadkins6@hfhs.org