Henry Ford Macomb is Top Hospital for Patient Safety, Quality
December 17, 2019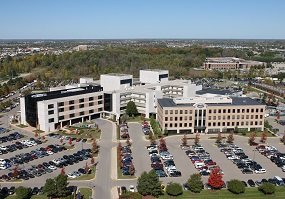 DETROIT – For the second year in a row, Henry Ford Macomb Hospital was named a Top Hospital for patient safety and quality by The Leapfrog Group.
Henry Ford Macomb is the only hospital in Macomb County and among 120 to earn the distinction from about 2,100 hospitals nationally. The Top Hospital designation is determined by a methodology that measures hospital care performance across multiple areas including infection rates, maternity care, mortality and physician staffing in the intensive care unit.
"This honor reflects the collective efforts of everyone who works at Henry Ford Macomb," says Barbara Rossmann, the hospital's president and CEO. "Each day we strive to deliver the highest standards of care to our patients in a safe, healing environment. I'm extremely proud of our team members and our medical staff for making this honor possible."
Top Hospital designations are awarded in four categories: children's hospitals, general hospitals, rural hospitals and teaching hospitals. Henry Ford Macomb was honored in the top teaching hospitals category, reflecting their robust medical education curriculum offered to physicians, nurses, residents, fellows, interns, students and allied health professionals.
The Top Hospital honor comes one month after Henry Ford Macomb earned an A grade for patient safety performance in The Leapfrog Group's bi-annual safety grades.
###
MEDIA CONTACT: David Olejarz / David.Olejarz@hfhs.org / 313.874.4094
About Henry Ford Health System
Henry Ford Health System is a six-hospital system headquartered in Detroit, Michigan. It is one of the nation's leading comprehensive, integrated health systems, recognized for clinical excellence and innovation. Henry Ford provides both health insurance and health care delivery, including acute, specialty, primary and preventive care services backed by excellence in research and education. Henry Ford Health System is led by President & CEO Wright Lassiter III. Visit HenryFord.com to learn more.
About The Leapfrog Group
Founded in 2000 by large employers and other purchasers, The Leapfrog Group is a national nonprofit organization driving a movement for giant leaps forward in the quality and safety of American health care. The flagship Leapfrog Hospital Survey collects and transparently reports hospital performance, empowering purchasers to find the highest-value care and giving consumers the lifesaving information they need to make informed decisions. The Leapfrog Hospital Safety Grade, Leapfrog's other main initiative, assigns letter grades to hospitals based on their record of patient safety, helping consumers protect themselves and their families from errors, injuries, accidents, and infections.