Henry Ford Health System Mourns Community Leader Marlowe Stoudamire
March 24, 2020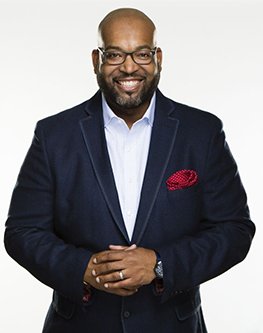 DETROIT – Henry Ford Health System is mourning the loss of community leader Marlowe Stoudamire, a former employee and friend who helped forge bonds across metro Detroit.
Mr. Stoudamire, 43, of Detroit, a dedicated husband and father of two and graduate of Cass Technical High School, died earlier today.
"An amazing man, husband, friend and one of the best dads that I have ever met lost his life to COVID-19 today," said Mr. Stoudamire's mentor and close friend, Bob Riney, President of Healthcare Operations and Chief Operating Officer for Henry Ford Health System. "Marlowe was a devoted Detroit advocate who would light up any room with his ideas and strategic thinking. He was tireless in his love and care for others. My wife and I are heartbroken for this devastating loss. We will continue the fight of this terrible pandemic in his honor."
Mr. Stoudamire began working for Henry Ford Health System as Community & Diversity Manager, later moving into the role of project director of international business strategy at Henry Ford Health System with projects in China, India and Saudi Arabia. A self-described "serial, social entrepreneur," Mr. Stoudamire was currently principal and founder of the integrated marketing & social impact firm, 2050 Partners, Inc., helping people, organizations and cities stay relevant and connected
Prior to launching his business, he served as Chief of Staff at the Skillman Foundation. More recently, he led the Detroit Historical Society's award-winning and ground-breaking Detroit 67: Looking Back to MOVE FORWARD project, receiving the 2018 IMLS National Medal – the nation's highest award bestowed to museums and libraries; and finishing in second place at the 2019 Best in Heritage Conference "Projects of Influence" featuring the top 42 award-winning global projects (5 continents) across the museum / heritage sector.
Awards included:
Harvard Business School Young American Leaders Program
American Marshall Memorial Fellow of the German Marshall Fund of the United States
Crain's Detroit Business 40 under 40
Michigan Chronicle 40 under 40
Mr. Stoudamire was also very involved in his fraternity, Omega Psi Phi, and was always open to connecting for coffee or a meeting to help others develop to their full potential. He graduated with a B.A. in business from Wayne State University and a MSA in International Administration from Central Michigan University.
He is survived by his wife, Valencia, and two young children.
###
MEDIA CONTACT: Tammy Battaglia / 248-881-0809 / Tammy.Battaglia@hfhs.org