Cynthia and Edsel B. Ford II Establish Henry Ford Health System Nursing Emergency Needs Fund
June 3, 2020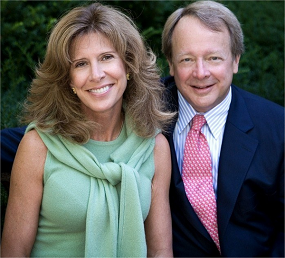 DETROIT – Cynthia and Edsel Ford have made an initial gift to establish the Henry Ford Health System Nursing Emergency Needs Fund, which was created to provide support for nurses who may need financial assistance with expenses such as childcare, housing, transportation or groceries. The fund was launched in May to honor National Nurses Month.

"We think it's important to offer compassion and gratitude any way we can," said Cynthia. "Healthcare workers, not only in our community but across our country and around the world, have galvanized to help those in need. They have devoted their lives to their work and we as a community should be there to give them a helping hand when they need it as well."

For Cynthia and Edsel, nursing has long been close to their hearts. In 1925, a 300 room Nurses Home named for Clara Ford, Edsel's great grandmother, was opened at Henry Ford Hospital to house students of the Henry Ford Hospital School of Nursing. This diploma school offered training in basic sciences and nursing practice, graduating more than 5,000 students in the ensuing 71 years of its operation. The school was known for its high standards and excellence in education and practice, and "Ford grads" were easily recognized by their unique caps as well as their skillful care of patients.

"Nurses have always shown such incredible devotion, not only during the COVID-19 crisis, but all the time," said Edsel. "Our hope long-term is that others join us in helping to keep this fund going. It's something I think my great grandmother Clara Ford would have believed in. We want to honor her legacy and look out for the nurses of today, who care for our families, friends, neighbors and communities, all while also caring for their own families."

Since the fund was created, Cynthia and Edsel have served as its champions, raising awareness and encouraging others to contribute, which has resulted in more than $400,000 donated by individuals, companies and foundations.

"We are so fortunate to be part of the amazing community that is Detroit, which comprises of wonderfully compassionate individuals like Cynthia and Edsel Ford who make up the beautiful fabric of our community," said Mary Jane Vogt, senior vice president and chief development officer, Henry Ford Health System. "The Nursing Emergency Needs Fund has already made a tremendous impact for our nurses and we hope it will continue to do so through the kind and thoughtful support of our donors."

To learn more about the Nursing Emergency Needs Fund or to make a gift, visit henryford.com/support-nurses.
###

MEDIA CONTACT: Jeff Adkins / (586) 307-2027 / [email protected]