Maplegrove Center Earns Prestigious Blue Distinction
July 28, 2020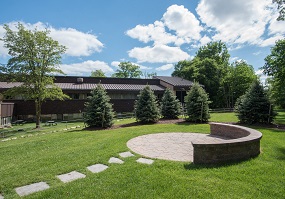 WEST BLOOMFIELD – Henry Ford Maplegrove Center is the first residential addiction treatment center in Michigan to be named a Blue Distinction Center for Substance Use Treatment and Recovery for its expertise in providing quality care and excellent patient outcomes.
The designation by the Blue Cross Blue Shield Association recognizes facilities that show a commitment to improving patient safety and health outcomes, based on objective measures developed with input from the community and leading accreditation and quality organizations.
"We are honored to receive this prestigious national designation. It is a humbling validation of our team's dedication to being laser-focused on each individual patient's recovery journey," says Elizabeth Bulat, M.D., medical director of addiction services at Maplegrove.
"The Blue Distinction Specialty Care program seeks to encourage health professionals to improve the overall delivery of care nationwide," said William Beecroft, M.D., medical director of behavioral health, Blue Cross Blue Shield of Michigan. "By designating proven, patient-centered treatment facilities as Blue Distinction, we're helping to improve patients' paths to recovery."
Among criteria considered for the Substance Use Treatment and Recovery distinction, centers must provide treatment for opioid use disorders within the broader scope of substance use disorders. In addition, all patients admitted to the program for OUD must have access to medication assisted treatment (MAT) as part of their inpatient and outpatient treatment plans.
Research shows that, for some people, a combination of pharmacologic treatment with behavioral therapy is the most effective approach for overcoming opioid addiction.
Since 2000, there has been a tenfold jump in opioid overdose deaths in Michigan. In 2018, alone, the opioid epidemic claimed the lives of 2,036 Michigan residents.
For nearly 40 years, Maplegrove Center has served as a beacon of hope, offering a well-established and effective clinical approach to recovery for individuals seeking to overcome alcohol and drug addiction. Services include detox, residential and day treatment and intensive outpatient treatment.
###
MEDIA CONTACT: Synthia Bryant /sbryant3@hfhs.org / 248.421.8686