Henry Ford to Repurpose Facility in Detroit to Meet Increased Patient Demand
September 9, 2020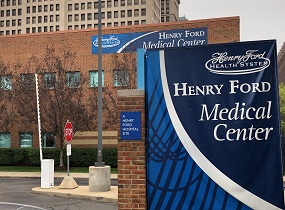 DETROIT – Henry Ford Health System announced today that it is repurposing one of its Detroit outpatient facilities to expand existing services and meet increased patient demand.
Services to be expanded at the Henry Ford Medical Center-Second Avenue include physical therapy, rehab, cardiac rehab and cardiology. The medical center is located at the corner of 6525 Second Ave. and Milwaukee, in the New Center Area.
To make way for the expansion, a fitness center accessible to the public will not be re-opening. It covered more than 41,000-square-feet of floor space on the first and second floors. Midtown Health managed the fitness center, called FitnessWorks, under Henry Ford's ownership.
"While we anticipate the pandemic will continue to impact our overall operations in the months ahead, we are focused on investing in important areas where we are seeing increased demand for our services," says Bob Riney, Henry Ford's president of Healthcare Operations and chief operating officer.
Riney says the health system is actively working with Midtown Health to find an alternative fitness center opportunity in Detroit for the membership.
"We are grateful to Midtown Health for their professional stewardship managing FitnessWorks and the membership who used the facility for their health and wellness needs over the years," Riney says. "We're also appreciative of Mayor Duggan and City Councilwoman Mary Sheffield for supporting us in our ongoing Midtown expansion and commitment to meeting the needs of our patients and the community."
"We are committed to finding a new fitness home for our 2,400 members who value the benefits of health and exercise," says Debra Siena, president of Midtown Health. "We wish to thank Henry Ford Health System for entrusting in us for managing FitnessWorks and being their community partner."
The medical center originally opened in 1996 under the name William Clay Ford Center for Athletic Medicine, in honor of William Clay Ford, the late owner of the Detroit Lions. The facility was renamed Henry Ford Medical Center-Second Avenue last year after Henry Ford opened its new sports medicine center as part of the Henry Ford Detroit Pistons Performance Center two blocks away. The new sports medicine center is named the William Clay Ford Center for Athletic Medicine.
###
MEDIA CONTACT: David Olejarz / David.Olejarz@hfhs.org / 313.874.4094