Amid Rising COVID-19 Cases in Michigan Henry Ford Health System Urges Everyone to Continue Practicing Safety Measures
October 23, 2020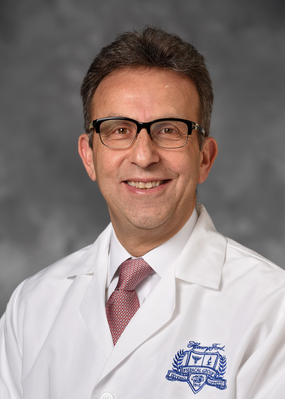 DETROIT (Oct. 23, 2020) – Over the last seven days, more than 13,000 people in Michigan have been diagnosed with COVID-19. While the rate of new cases in Central and Southeast Michigan is lower than other parts of the state, and hospitalizations remain relatively low, Henry Ford Health System is reminding the community to continue practicing safety measures that have been scientifically-proven to reduce the spread of COVID-19, including:
Wearing a mask
Practicing social distancing
Avoiding large gatherings
Practicing good hand hygiene
"The positive cases have increased in the past few weeks, sometimes exceeding the numbers we saw in April," said Adnan Munkarah, M.D., Executive Vice President and Chief Clinical Officer of Henry Ford Health System. "With that said, there are a few differences between April and now, including more testing availability, people choosing to venture out more, and many schools and businesses being reopened."

According to Dr. Munkarah, these factors have contributed to a higher number of young people testing positive for COVID-19. Because young people are generally healthier and don't have the comorbidities seen in older patients, hospitalizations and deaths due to the virus have been lower than earlier this year.

"If we start seeing the virus spreading from young people to older people and those with comorbidities again, we may again see increases in deaths and hospitalizations," Dr. Munkarah said. "For that reason, it's important that people continue wearing masks, practice social distancing and take preventative measures like avoiding crowds and washing their hands.

"While these safety measures can at times be a little inconvenient, they save lives and will continue to do so if we keep practicing them while a vaccine is being developed."

While much has been learned about COVID-19 in the time since April, much remains unknown, including the potential long-term effects of the disease.

"In the early days, no one knew much about the virus. We did not yet have data available to help us gain a better understanding," said Dr. Munkarah. "Now, we know much more. We do not have a 'magic bullet' for this disease, but we know there are interventions that can help.

"In the meantime, while there are several vaccines in development, and it is possible one could be available as soon as the end of this year, we must remain committed to letting science drive our decision-making when it comes to protecting ourselves and our community from this disease."

To that end, Dr. Munkarah said there is growing concern about the upcoming Thanksgiving and holiday season, and the potential for COVID-19 to spread from younger family members to vulnerable adults. "As difficult as it may be, perhaps the best holiday gift you can give this year is to throw a virtual party, where everyone can enjoy each other's company and celebrate without putting the people you love at risk for COVID-19," he said.

###
About Henry Ford Health System:
Founded in 1915 by Henry Ford himself, Henry Ford Health System is a non-profit, integrated health system committed to improving people's lives through excellence in the science and art of healthcare and healing. Henry Ford Health System consists of six hospitals including Henry Ford Hospital in Detroit; Henry Ford Macomb Hospitals; Henry Ford Wyandotte Hospital; Henry Ford West Bloomfield Hospital; Henry Ford Allegiance in Jackson, MI; and Henry Ford Kingswood Hospital – an inpatient psychiatric hospital.

Henry Ford Health System also includes Henry Ford Medical Group; Henry Ford Physician Network; more than 250 outpatient facilities; Henry Ford Pharmacy; Henry Ford OptimEyes; and other healthcare services. Our not-for-profit health plan, Health Alliance Plan (HAP) provides health coverage for more than 540,000 people.

As one of the nation's leading academic medical centers, Henry Ford Health System trains more than 3,000 medical students, residents, and fellows annually in more than 50 accredited programs, and has trained nearly 40% of the state's physicians. Our dedication to education and research is supported by nearly $100 million in annual grants from the National Institutes of Health and other public and private foundations.

Henry Ford Health System employs more than 33,000 people, including more than 1,600 physicians, more than 6,600 nurses and 5,000 allied health professionals.
MEDIA CONTACT: Jeff Adkins / (586) 307-2027 / jadkins6@hfhs.org