More than 440 Henry Ford Physicians Named "2020 Top Docs" by Detroit's Hour Magazine Along with Healthcare Heroes Who Inspired Them
October 6, 2020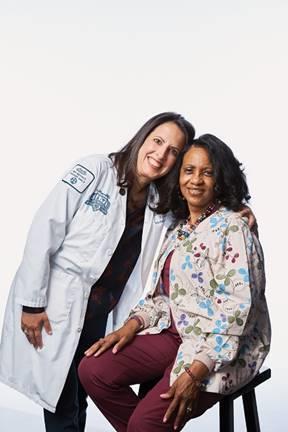 FOR IMMEDIATE RELEASE
DETROIT – (October 7, 2020) More than 440 Henry Ford Health System doctors have been named by Detroit's Hour Magazine as "2020 Top Docs." Among them is Henry Ford's Medical Director of Care Experience Rana Awdish, M.D., a critical care medicine specialist and pulmonologist named in two categories and part of a select group of physicians featured alongside non-physician colleagues being recognized for extraordinary work during the challenging, trying days of COVID-19.
One unsung Henry Ford hero is Judith Gray-Davis, a nurse assistant and colleague of Dr. Awdish in the critical care unit at Henry Ford Hospital, the first unit designated all COVID-19 patients at the height of the pandemic and to go on to lose – and save - many patients.
Judith was truly a front-line healthcare worker, the comforting connection between loved ones and critically ill patients saying goodbye, needing to settle financial matters, or just being there to keep them from being alone, said Dr. Awdish.
"It's important to note that the heaviest lifts, in some ways, were by people who don't routinely have their incredible work acknowledged," Dr. Awdish said. "She unburdened us, and it was at a moment where the greatest gift of love was unburdening someone when they can't handle anymore. That's what Judy did for us."
Gray-Davis, who appeared with Dr. Awdish on the cover of this month's "Top Docs" issue, said in an emotional video interview: "At that time, I'm their family. I'm their loved one, I'm all they have."
Henry Ford providers accounted for nearly one-third of the more than 1,300 Top Docs named across health systems. They come from specialties such as emergency medicine, infectious disease, neurosurgery, cancer, sports medicine, urology, general surgery, cardiology. Some specialties had entire teams recognized.
"This is a phenomenal showing by all of our Henry Ford-associated providers, which includes the Henry Ford Medical Group and the independent physicians care for patients in our hospitals," said Henry Ford Medical Group CEO Steven Kalkanis, MD. "The "Top Docs" list reflects how much our physician peers respect the expertise and quality of care delivered through Henry Ford."
The unsung heroes gave this year's Top Docs list a different feel. The goal, according to Hour Detroit, is to "to honor medical professionals from our 2020 Top Docs List - and the heroes who keep them going."
"At a time when the nation is suffering not just from a relentless pandemic, but also from deep social divisions, we can find solace in our shared appreciation for the risks and sacrifices frontline healthcare workers face daily on our behalf," the magazine wrote.
Other Henry Ford unsung heroes:
Mary Serowoky

,

l

ead nurse practitioner for Henry Ford's School-Based and Community Health Program.

"

After the state-ordered school closures, Mary acted quickly to find alternative work for our school-based clinic staff, including virtual care, redeployments to call lines, testing sites, and inpatient wards. Once our staff had been successfully redeployed, Mary then volunteered to be redeployed herself and worked in a COVID-19 surge unit as well as doing COVID-19 testing in collaboration with the Detroit Health Department," said her nominator, Maureen Connolly, M.D., FAAP, Medical Director, School-Based and Community Health Program, Department of Pediatrics, Henry Ford Hospital.
Stephanie Garnett

, a physician assistant hired in January in sports medicine. "

From day one of the shutdown and COVID-19 crisis she volunteered to work midnights in the ER at Henry Ford Medical Center in Fairlane. She did this without question, and when she was no longer needed in the ER, she began to cover the intensive care unit at Henry Ford Hospital in West Bloomfield," said her nominator, Patricia A. Kolowich, M.D., fellowship director, Orthopedic Sports Medicine, Henry Ford Hospital Department of Orthopedic Surgery.



Joseph Gibbs, M.D. and Alexander Michaels, M.D

., chief cardiology fellows, Henry Ford Hospital, organized a group of 21 cardiology fellow trainees "one the front lines of the COVID-19 epidemic in Detroit," said Bobak Rabbani, M.D., Cardiology Fellowship program director, Henry Ford Hospital. "From Day 1 of the epidemic they were treating COVID-19 patients in intensive care, general practice units as well as procedural areas. They stepped up when others could not, providing critical care and saving lives. They had significant exposure to the virus through intubations, procedures and CPR, but they persisted. They helped lead the group through the pandemic experience…Detroit – and the region – is lucky to have them during this time.
Steven Rockoff, D.O

., service chief,

emergency department, Henry Ford West Bloomfield and a member of the Disaster Medical Assistance Team, was nominated by his wife, Top Doc Rachel Rohde, M.D., an orthopedic hand surgeon at Beaumont Hospital Royal Oak.

"He has worked tirelessly throughout the pandemic, never voicing any sort of concern over his own well-being… It was hard for some of us who stay at home and have our routines interrupted, but to watch him go in and face the scariest part, to me, was heroic. I admire that he jumps right into the fire."
All in all, the personal recognition for these unsung heroes reflects the efforts of Henry Ford's 33,000 employees who have weathered the worst of COVID-19, Dr. Kalkanis said.
"This support and vote of confidence, expressions of gratitude and recognition go a long way in reminding the many, many healthcare workers who also provide our patients with the best care and experience possible, that they are deeply valued. This is a proud moment for Henry Ford."
Media Contact: Kim North Shine / 313-549-4995 / knorth1@hfhs.org
About Henry Ford Health System:
Founded in 1915 by Henry Ford himself, Henry Ford Health System is a non-profit, integrated health system committed to improving people's lives through excellence in the science and art of healthcare and healing. Henry Ford Health System includes six hospitals including Henry Ford Hospital in Detroit; Henry Ford Macomb Hospitals; Henry Ford Wyandotte Hospital; Henry Ford West Bloomfield Hospital; Henry Ford Allegiance in Jackson, MI; and Henry Ford Kingswood Hospital – an inpatient psychiatric hospital.

Henry Ford Health System also includes Henry Ford Medical Group: Henry Ford Physician Network; more than 250 outpatient facilities; Henry Ford Pharmacy; Henry Ford OptimEyes; and other healthcare services. Our not-for-profit health plan, Health Alliance Plan – HAP – provides health coverage for more than 540,000 people.

As one of the nation's leading academic medical centers, Henry Ford Health System trains more than 3,000 medical students, residents, and fellows annually in more than 50 accredited programs, and has trained nearly 40% of the state's physicians. Our dedication to education and research is supported by nearly $100 million in annual grants from the National Institutes of Health and other public and private foundations.

Henry Ford Health System employs more than 33,000 people, including more than 1,600 physicians, more than 6,600 nurses and 5,000 allied health professionals. For more information, go to henryford.com