Henry Ford Health System is the First in Michigan to offer da Vinci Single Port Robotic Surgery System
November 19, 2020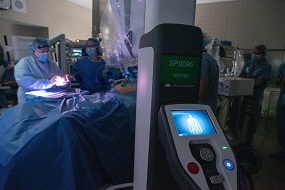 The da Vinci SP is less invasive and gives surgeons the ability to treat some head and neck cancers that were once considered inoperable.
DETROIT (Nov. 19, 2020) –
Henry Ford Health System
is the first in Michigan to offer the
da Vinci SP®
robotic surgery system, which requires only a single small incision for its surgical instruments and allows for greater control and access in narrow surgical spaces. Other da Vinci robots require 3-4 small incisions for access, and while extremely advanced for many procedures, the single port robot can help surgeons to perform delicate surgery in small spaces for certain patients with prostate cancer, kidney cancer, ureteral strictures and certain types of head and neck cancers.
The da Vinci SP is now available at both Henry Ford Hospital and Henry Ford Macomb Hospital. Surgeons at Henry Ford Health System recently performed the health system's first robotic prostatectomy surgeries using the da Vinci SP in October 2020.
"Henry Ford Health System has long been on the forefront of robotic surgery," said
Craig Rogers, M.D.
, chair of the Vattikuti Urology Institute at Henry Ford Health System
, who completed the first robotic prostatectomy using the da Vinci SP at Henry Ford Hospital on Oct. 26, 2020. "We believe the SP system provides significant benefits for patients as it is even less invasive than previous minimally-invasive robotic surgery systems."
Because the SP system allows all of the robotic instruments and camera to work through one small incision, Dr. Rogers said many patients will experience less pain and may be able to be discharged the same day as the surgery, versus staying overnight at the hospital, which is typically required after standard robotic prostatectomy.
Robotic surgery was pioneered at Henry Ford Hospital beginning in 2000 when
Mani Menon, M.D.
, performed the first robotic prostatectomy in the country. With November marking the 20th anniversary of that historic first, Henry Ford Health System is building upon its legacy of innovation in robotic surgery with the addition of the da Vinci SP, Dr. Rogers said. Henry Ford has become one of the most experienced health systems in the world when it comes to robotic surgery with more than 33,000 robotic procedures performed to date.
Surgeons at Henry Ford have used robot-assisted techniques to improve outcomes for people with many types of cancers, including prostate, bladder and kidney cancer, as well as head and neck cancers and many others.
For surgical procedures of the head and neck, a major advantage of the da Vinci SP surgical system is that its three fully-articulating instruments and camera enter the mouth through a single 27mm cannula entry point, versus each of them having to enter individually. This has made some cancers operable that were previously inoperable due to instruments being unable to reach them.
"In addition to being able to operate on cancers we previously couldn't reach, this robotic surgical system offers the advantages of less bleeding, being more minimally invasive, and providing a quicker return to function for the patient," said
Tamer Ghanem, M.D., Ph.D.
, Director of the Head and Neck Surgery and Microvascular Surgery Fellowship in the Department of Otolaryngology at Henry Ford Hospital
. "It can also reduce the need for radiation therapy in some patients, as some cancers that may have been only treatable with radiation can now be removed surgically."
According to the
Centers for Disease Control and Prevention (CDC)
, in 2017, the latest year for which data are available, 46,157 new cases of oral cavity and pharynx cancer – also known as head and neck cancers – were reported in the U.S., and 10,126 people died of these cancers. Risk factors include smoking and heavy alcohol use, although recent studies show that
approximately 70 percent of cancers of the oropharynx may be linked to HPV
.
To request an appointment with a head and neck cancer specialist at Henry Ford Health System, visit
henryford.com/services/head-neck-cancers
. To request an appointment with a urologist at Henry Ford Health System, visit
henryford.com/services/urology
.
###
About Henry Ford Health System
:
Founded in 1915 by Henry Ford himself, Henry Ford Health System is a non-profit, integrated health system committed to improving people's lives through excellence in the science and art of healthcare and healing. Henry Ford Health System consists of six hospitals including Henry Ford Hospital in Detroit; Henry Ford Macomb Hospitals; Henry Ford Wyandotte Hospital; Henry Ford West Bloomfield Hospital; Henry Ford Allegiance in Jackson, MI; and Henry Ford Kingswood Hospital – an inpatient psychiatric hospital.
Henry Ford Health System also includes Henry Ford Medical Group; Henry Ford Physician Network; more than 250 outpatient facilities; Henry Ford Pharmacy; Henry Ford OptimEyes; and other healthcare services. Our not-for-profit health plan, Health Alliance Plan (HAP) provides health coverage for more than 540,000 people.
As one of the nation's leading academic medical centers, Henry Ford Health System trains more than 3,000 medical students, residents, and fellows annually in more than 50 accredited programs, and has trained nearly 40% of the state's physicians. Our dedication to education and research is supported by nearly $100 million in annual grants from the National Institutes of Health and other public and private foundations.
Henry Ford Health System employs more than 33,000 people, including more than 1,600 physicians, more than 6,600 nurses and 5,000 allied health professionals.
MEDIA CONTACT
: Jeff Adkins / (586) 307-2027 /
jadkins6@hfhs.org