Henry Ford Hospital Earns Re-Certification as Comprehensive Stroke Center by The Joint Commission
February 22, 2021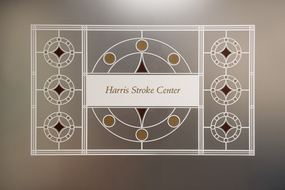 DETROIT (Feb. 22, 2021) – Henry Ford Hospital has been re-certified by The Joint Commission as a Comprehensive Stroke Center, the highest distinction of its kind which recognizes hospitals that have the ability to receive and treat the most complex stroke cases.

An independent, not-for-profit organization that accredits and certifies more than 22,000 healthcare organizations and programs in U.S., The Joint Commission conducted a rigorous review of more than 130 elements of performance, including quality measurements and guidelines, before awarding the re-certification, which Henry Ford Hospital first earned in 2016.

"By utilizing the most advanced diagnostic tools available, we are able to diagnose stroke within minutes and rapidly begin treatment," said Alex Chebl, M.D., director of the Division of Vascular Neurology for Henry Ford Health System and director of Henry Ford Hospital's Comprehensive Stroke Center. "This commitment to excellent care has not only earned us re-certification as a Comprehensive Stroke Center by The Joint Commission, but also the Gold Plus and Target: Stroke Honor Roll Elite designation from the American Heart Association, which recognizes our commitment to ensuring stroke patients receive the most appropriate treatment according to nationally-recognized, research-based guidelines."

Stroke, also known as a "brain attack," can come in two forms. The most common type of stroke is called an ischemic stroke, in which a blockage causes an interruption of the blood supply to any part of the brain. Every minute in which a large vessel ischemic stroke is untreated, the average person will lose approximately 1.9 million brain cells, according to the American Heart Association. If the blood supply is not restored immediately, this can cause severe brain damage or death.

About 13 percent of strokes are caused by a weakened blood vessel that ruptures. These hemorrhagic strokes cause blood to pool and put pressure on the surrounding tissue. People suffering a hemorrhagic stroke can suffer severe brain damage if the bleeding is not controlled and the pressure relieved.

The Comprehensive Stroke Center certification from The Joint Commission is backed by Henry Ford's Stroke Interdisciplinary Team, as well as the Ford Acute Stroke Treatment Team – or FAST Team, which can rapidly evaluate a patient with suspected stroke at any Henry Ford Emergency Department and determine in minutes if the patient should be sent to Henry Ford Hospital for advanced surgical or catheter-based treatments. One of those advanced treatment options is endovascular thrombectomy, which is the insertion of a tiny catheter directly into the brain to retrieve stroke-causing blood clots, restoring normal blood flow in seconds.

Certification reviews from The Joint Commission, including Comprehensive Stroke Center, Primary Stroke Center and Thrombectomy-Capable, occur every two years. Henry Ford Allegiance Health, Henry Ford Macomb Hospital and Henry Ford Wyandotte Hospital are certified as Primary Stroke Centers, and Henry Ford West Bloomfield Hospital is certified as a Thrombectomy-Capable stroke center.

As pioneers in stroke research, Henry Ford experts were instrumental in the development of the drug commonly known as tPA (tissue plasminogen activator), serving as the national coordinating center and one of the primary sites for the national clinical trials. Administered within the first four-and-a-half hours of ischemic stroke onset, tPA targets and dissolves blood clots and improves blood flow. The results of the trial appeared in the New England Journal of Medicine and changed the way hospitals cared for stroke patients nationwide. Henry Ford clinicians and researchers continue to participate in ground-breaking clinical trials related to the treatment of ischemic and hemorrhagic stroke.

According to the American Heart Association/American Stroke Association, stroke is the fifth leading cause of death and a leading cause of adult disability in the United States. On average, someone in the U.S. has a stroke every 40 seconds, and someone dies from stroke every three minutes and 33 seconds.

The warning signs of stroke include sudden loss of balance or trouble walking, blurred vision, facial drooping, sudden weakness of the limbs, slurred speech and debilitating headache. If you or someone else suffers any of these symptoms, call 911 and get to the nearest stroke center.

To learn more about Stroke care at Henry Ford, please visit henryford.com/stroke.

###

About Henry Ford Health System
Founded in 1915 by Henry Ford himself, Henry Ford Health System is a non-profit, integrated health system committed to improving people's lives through excellence in the science and art of healthcare and healing. Henry Ford Health System includes Henry Ford Medical Group, with more than 1,900 physicians and researchers practicing in more than 50 specialties at locations throughout Southeast and Central Michigan. Acute care hospitals include Henry Ford Hospital in Detroit, MI and Henry Ford Allegiance Health in Jackson, MI – both Magnet® hospitals; Henry Ford Macomb Hospital; Henry Ford West Bloomfield Hospital; and Henry Ford Wyandotte Hospital.
The largest of these is Henry Ford Hospital in Detroit, a quaternary care research and teaching hospital and Level 1 Trauma Center recognized for clinical excellence in cardiology, cardiovascular surgery, neurology, neurosurgery, and multi-organ transplants. The health system also provides comprehensive, best-in-class care for cancer at the Brigitte Harris Cancer Pavilion, and orthopedics and sports medicine at the William Clay Ford Center for Athletic Medicine – both in Detroit.
As one of the nation's leading academic medical centers, Henry Ford Health System annually trains more than 3,000 medical students, residents, and fellows in more than 50 accredited programs, and has trained nearly 40% of the state's physicians. Our dedication to education and research is supported by nearly $100 million in annual grants from the National Institutes of Health and other public and private foundations.
Henry Ford's not-for-profit health plan, Health Alliance Plan (HAP), provides health coverage for more than 540,000 people.
Henry Ford Health System employs more than 33,000 people, including more than 1,600 physicians, more than 6,600 nurses and 5,000 allied health professionals.
MEDIA CONTACT: Sal Giacona / sgiacon1@hfhs.org or mediarelations@hfhs.org / 313-421-9108