New Initiative by Henry Ford Cancer Institute Aims to Increase Minority Participation in Clinical Trials
March 11, 2021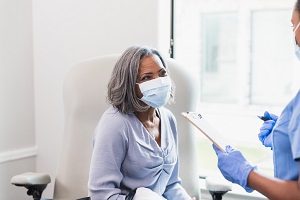 $750,000 Grant from Genentech Will Support Collaboration with the Detroit Urban Research Center
DETROIT (March 11, 2021) – Henry Ford Cancer Institute is launching the Participatory Action for Access to Clinical Trials (PAACT) project to dramatically improve the representation of the African American community and other minorities in cancer clinical trials
Supported by a $750,000 grant from Genentech, PAACT is a community-based research initiative in collaboration with the Detroit Community-Academic Urban Research Center (Detroit URC) that will address various barriers to trust and participation in clinical trials. Researchers and community partners will focus on clinical trials involving breast, colorectal, lung, and prostate cancers, which are more likely to result in death for African Americans when compared to other racial and ethnic groups. The project is being implemented in partnership with community-based organizations and community leaders who are key stakeholders.
"By working with the community to help us understand attitudes about research, more minorities may be willing to enter clinical trials," said Eleanor M. Walker, M.D., PAACT co-investigator, and director of Breast Radiation Oncology and medical director of Integrative Services at Henry Ford.
Dr. Walker notes that Henry Ford serves a large African American population, including Detroit, which is about 80 percent African American, that could benefit from many of the promising treatments now being investigated. "The advent of promising novel therapies, including immunotherapy and recently discovered genetic therapies, create an urgency to improve clinical trial enrollment of African Americans with higher risk and poorer prognosis of cancer," she said.
A Decade of Research into Genetic Origins of Cancer
Over the last decade, Henry Ford has been leading U.S. research in triple negative breast cancer.
Evelyn Jiagge, M.D., Ph.D., the principal investigator of the PAACT project, serves as the lead investigator of Henry Ford Breast Cancer Research, and has collaborated with nine organizations in Ghana and Tanzania to study the genetic origins of aggressive triple negative breast cancer, which disproportionately affects women of African descent. Dr. Jiagge is extending her research findings to communities in Detroit.
Studies have shown that up to 80 percent of breast cancer patients in Africa and 25 percent of African American women are diagnosed with triple negative breast cancer, compared to 10-15 percent of white women in the U.S.
Precision drugs and interventions being studied at Dr. Jiagge's laboratory are based on genetic markers. "If tumors of African American women are not represented in clinical trials, it impairs our ability to provide patients with the best possible treatment options," says Dr. Jiagge, who studies molecular targets within different populations to determine treatments for personalized and precision medicine.
Impacting Future Cancer Outcomes
"We can't change the past, but we have to ask, 'How do we work together to change the future?' African Americans have told us they want to be present in the design of the clinical trial so they know what's involved and who will be accountable," says Dr. Jiagge.
Detroit URC members collaborating with the Henry Ford Cancer Institute include Barbara Brush, Ph.D., a PAACT co-principal investigator and professor at the U-M School of Nursing; and co-investigator Barbara Israel, Dr.PH., professor at the U-M School of Public Health and director of the Detroit URC. Several Detroit URC Board organizations will also be part of the Steering Committee, including Eastside Community Network (Jillian DeWitt, Community & Organizing Manager), Friends of Parkside (Zachary Rowe, Executive Director), Institute for Population Health (Gwendolyn Daniels, CEO), and Neighborhood Service Organization (Linda Little, President and CEO). The team of more than 25 researchers will complete the project in late December, 2022.
In addition to the Detroit URC, project partners include Donna M. Harris of Grace Community Church; Mary Waters, Executive Director of Survivors Still Serving; Sophia Chue, Executive Director and Community Advocacy Project Director of Caribbean Community Service Center; and Emmanuel Addo of the Ghana Association of Michigan.
"We believe our partnerships highlight collaborative research as a tool to address public health concerns," says Donna M. Harris, director of community outreach at Grace Community Church in Detroit.
"This project specifically addresses the underrepresentation of minority participation in research and we believe that by partnering, we will be able to engage our organization's diverse East Michigan community to help address the challenges in cancer research and health systems," says Emmanuel Addo, president of the Ghana Association in Michigan.
The challenges associated with COVID-19 may be a benefit for research efforts. "By creating focus groups online or through conference-calls, we may have higher enrollment and hear more voices from the community," says Dr. Brush. "People won't need to worry about travel, weather conditions, childcare or gas money."
In addition to conducting focus groups and interviews in diverse communities, researchers will interview healthcare professionals to identify any biases and clarify misunderstandings about the role of the healthcare system in non-involvement of Blacks/African Americans in clinical trials.
Based on the findings, PAACT will develop and test pilot interventions in the community and the health system aimed at eliminating barriers to inclusion.
"We are excited for the support of Genentech to help us understand and respond to the persistent underrepresentation of African American participants in cancer clinical trials," says Benjamin Movsas, M.D., interim medical director, Henry Ford Cancer Institute. "The PAACT approach has the potential to create more realistic treatments and improved outcomes for minority cancer patients by harnessing our local partnerships and resources to help us understand more about African American attitudes and abilities to participate in clinical trials."
"We hope the solutions we find can be integrated into health systems and be scalable to other African American communities nationwide and people with African descent globally," said Dr. Jiagge.
###
About Henry Ford Health System
Founded in 1915 by Henry Ford himself, Henry Ford Health System is a non-profit, integrated health system committed to improving people's lives through excellence in the science and art of healthcare and healing. Henry Ford Health System includes Henry Ford Medical Group, with more than 1,900 physicians and researchers practicing in more than 50 specialties at locations throughout Southeast and Central Michigan. Acute care hospitals include Henry Ford Hospital in Detroit, MI and Henry Ford Allegiance Health in Jackson, MI – both Magnet® hospitals; Henry Ford Macomb Hospital; Henry Ford West Bloomfield Hospital; and Henry Ford Wyandotte Hospital.
The largest of these is Henry Ford Hospital in Detroit, a quaternary care research and teaching hospital and Level 1 Trauma Center recognized for clinical excellence in cardiology, cardiovascular surgery, neurology, neurosurgery, and multi-organ transplants. The health system also provides comprehensive, best-in-class care for cancer at the Brigitte Harris Cancer Pavilion, and orthopedics and sports medicine at the William Clay Ford Center for Athletic Medicine – both in Detroit.
As one of the nation's leading academic medical centers, Henry Ford Health System annually trains more than 3,000 medical students, residents, and fellows in more than 50 accredited programs, and has trained nearly 40% of the state's physicians. Our dedication to education and research is supported by nearly $100 million in annual grants from the National Institutes of Health and other public and private foundations.
Henry Ford's not-for-profit health plan, Health Alliance Plan (HAP), provides health coverage for more than 540,000 people.
Henry Ford Health System employs more than 33,000 people, including more than 1,600 physicians, more than 6,600 nurses and 5,000 allied health professionals.
About Detroit Community-Academic Urban Research Center (Detroit URC)
Established in 1995, the Detroit Community-Academic Urban Research Center (Detroit URC) is a community-based participatory research (CBPR) partnership that fosters and supports equitable approaches to research and interventions aimed at reducing and ultimately eliminating health inequities in Detroit.
The Detroit URC and affiliated partnerships focus on enhancing understanding of the relationship between the social and physical environmental determinants of health, and translating that knowledge into public health interventions, programs, and policies that build upon community resources and strengths.
The partnership is a collaboration of representatives from multiple Detroit organizations and academic researchers from the University of Michigan who work together to foster health equity in the city of Detroit. Through several different affiliated partnerships and projects, the Detroit URC works in multiple communities in Detroit, characterized by differences in history, race and ethnicity, language, economic composition, and community organization. The Detroit URC Board, composed of representatives of each of the partner organizations, oversees all aspects of the Center in accordance with a set of CBPR principles adopted by the Detroit URC Board.
Detroit URC partner organizations include the University of Michigan Schools of Public Health, Nursing, and Social Work, the Detroit Health Department, eight community-based organizations (Community Health and Social Services Center (CHASS), Detroiters Working for Environmental Justice, Detroit Hispanic Development Corporation, Eastside Community Network, Friends of Parkside, Institute for Population Health, Latino Family Services, and Neighborhood Service Organization), and Henry Ford Health System.
Learn more at www.detroiturc.org.
MEDIA CONTACTS:
Jeff Adkins / (586) 307-2027 / jadkins6@hfhs.org (Henry Ford Health System)
Carol Gray, Center Manager / (734) 277-3609 / ccbgray@umich.edu (Detroit URC)