Henry Ford Innovations teams with Agamon to deliver better radiology care
April 5, 2021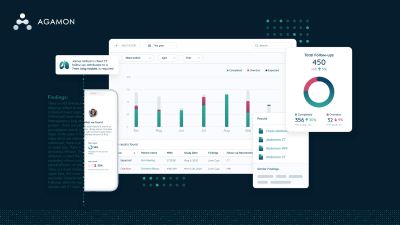 DETROIT - Studies show that more than 50 percent of patients don't follow up on care needed following a CT, MRI, X-Ray or other radiology study. To address that concern, Henry Ford Health System has supported the development and integration of the Agamon Coordinate Platform, an artificial intelligence software that improves the way hospital computers read text from clinical and radiology reports.
Agamon's advanced AI platform is built on neurolinguistic programming that translates, or declutters, doctors' clinical reports into data and information that is easy for patients to understand and act on. Agamon's platform flags the need for follow-up care to ensure important next steps in the care plan are taken.
"We are impressed by Agamon's capability to accurately and automatically discover key patient recommendations from our radiology reports," says Dr. Daniel Siegal, M.D., Vice Chair of Radiology at Henry Ford Health System. "Agamon Coordinate's user-friendly dashboard is making a big difference by efficiently making certain the physicians and patients get the information they need to make the best decisions about their care."
Already, the integration of the Agamon Coordinate Platform at Henry Ford is leading to changes in patients receiving follow-up radiology reports, enhancing their care and improving outcomes by helping ensure that imaging follow-ups are not missed and that patient needs don't fall through the cracks.
Henry Ford Innovations has supported Israeli-based Agamon since its start-up days – one of many emerging businesses and technologies identified for the potential to boost patient care and also hospitals' business practices by zeroing in on shortcomings and missed potential and opportunities.
The mission of Henry Ford Innovations is to engineer the future of healthcare by providing physicians and staff with world-class resources to act on and implement great ideas.
"More compliance with getting needed, timely care means better patient outcomes, reduced disease severity, fewer complications and a better patient experience," said Dr. Siegal, adding that Agamon Coordinate routinely provides highly accurate details about a patient's condition in a way that helps assure that they will follow up by getting recommended care.
Agamon Coordinate is improving care for patients at other hospitals and health systems as its team of physicians, technologists, entrepreneurs and other individuals build technology that improves the current process of medical reporting, closes the loop on missed patient follow-ups and turns medical data into knowledge that can also minimize liability risks. Agamon believes the Coordinate Platform offers measurable gains to patients, doctors, hospitals and the healthcare industry as a whole.
"I'm delighted that Henry Ford Health System has selected Agamon Coordinate to be integrated into its workflow," said Michal Meiri, CEO of Agamon. "Henry Ford Health System is a premier patient care institution, and we consider it a great privilege to work with their team to further improve the quality of care for their patients."
###
MEDIA CONTACTS:
At Henry Ford, Kim North Shine / knorth@HFHS.org / 313-549-4995
At Agamon: Maya Finkler / maya@agamonhealth.com / 347-669-8099
ABOUT AGAMON: Founded in 2018, it has customers in the US, Israel and the UK. Agamon has earned notable awards and recognition, including MassChallenge HealthTech in 2021.The ability to process significant information from unstructured medical reports into actionable insights in a timely manner is of increasing importance for health care providers as workload and liability claims increase. With Agamon Coordinate, providers can achieve an industry leading workflow experience, as measured by the number of radiology reports with actionable insights that are flagged by the system.
ABOUT HENRY FORD HEALTH SYSTEM: Founded in 1915 by Henry Ford himself, Henry Ford Health System is a non-profit, integrated health system committed to improving people's lives through excellence in the science and art of healthcare and healing. Henry Ford Health System includes Henry Ford Medical Group, with more than 1,900 physicians and researchers practicing in more than 50 specialties at locations throughout Southeast and Central Michigan. Acute care hospitals include Henry Ford Hospital in Detroit, MI and Henry Ford Allegiance Health in Jackson, MI – both Magnet® hospitals; Henry Ford Macomb Hospital; Henry Ford West Bloomfield Hospital; and Henry Ford Wyandotte Hospital.
As one of the nation's leading academic medical centers, Henry Ford Health System annually trains more than 3,000 medical students, residents, and fellows in more than 50 accredited programs, and has trained nearly 40% of the state's physicians. Our dedication to education and research is supported by nearly $100 million in annual grants from the National Institutes of Health and other public and private foundations.
Henry Ford Health System employs more than 33,000 people, including more than 1,600 physicians, more than 6,600 nurses and 5,000 allied health professionals.