Overuse is Contributing to High Rate of Arm Injuries in Youth Baseball Pitchers
April 12, 2021
DETROIT – With spring baseball season underway, Eric Makhni, M.D., a Henry Ford Health System sports medicine orthopedic surgeon, warns about how overuse can contribute to the high rate of arm injuries among youth players.
Players between the ages of 15 and 19 account for nearly 57% of all Tommy John surgeries, according to a 2015 study in the American Journal of Sports Medicine.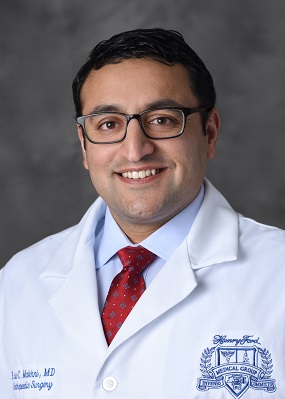 "Young pitchers that throw all year long and don't give their arms a rest between seasons risk increased elbow and arm injuries," said Dr. Makhni. "Their bodies haven't developed enough to handle the workload and physical stress."
The use of weighted baseballs during training is another common factor among injured pitchers as more young pitchers use them to increase their pitch velocity, according to Dr. Makhni. "Many of my surgeon and physician colleagues are concerned about injury risk associated with these training programs, especially in kids who are still growing," said Dr. Makhni.
Brandon Newland, a 15-year-old pitcher from Bloomfield Hills, underwent surgery after injuring his elbow during a travel baseball game in February. It occurred on the second pitch of the game and Newland immediately grabbed his elbow in pain.
Newland, who is expected to make a full recovery, said the injury taught him a valuable lesson.
"The biggest lesson is that everything needs to be done in moderation, from training to playing and to making sure I give my arm a break," he said. As his elbow heals, Newland hopes to help his high school team this spring in a limited role as a designated hitter.
Travis Paryaski is a 17-year-old, left-handed pitcher from Southfield, also competes for his high school team and travel team. After dealing with recurring arm injuries since the sixth grade, he underwent elbow ulnar collateral ligament (UCL) surgery, also known as Tommy John surgery last August.
"I was nervous going into the surgery thinking that I would have to have the full reconstruction surgery. Dr. Makhni was able to perform the repair instead and everything went fine," said Travis. "Now I'm back to pitching 100% and I haven't had any pain since."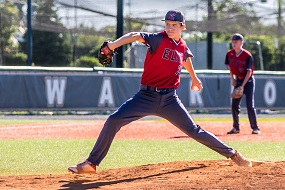 Dr. Makhni said new techniques have evolved since the original elbow construction surgery was developed in the 1970s. Surgeons now are able to repair the body's natural ligament without major reconstruction. During reconstruction surgery, a ligament or tendon from another area of the body is used to recreate a new ulnar collateral ligament.
"Primary repair of the UCL has really changed the game with how we care for these injuries," said Dr. Makhni. "New techniques have emerged that allow us to actually save the athlete's native UCL and simply repair it. The UCL is usually augmented with an internal brace that helps protect the repaired ligament while it heals."
Dr. Makhni has performed several Tommy John surgeries on youth baseball players and has led published studies about how better conditioning and throwing mechanics are key to fewer youth pitching elbow injuries. He said the repair option not only helps pitchers return to the mound sooner, but it also preserves the native bone in the elbow in the process.
Dr. Makhni said that while surgery is the best option for some athletes with elbow injuries, most injuries do not require surgery. There are many proven non-operative treatments that can help young pitchers recover and get back to the mound safely, he said. Dr. Makhni also utilizes new biologic treatments such as platelet-rich plasma, which can help the ligament heal after a period of rest. He also reviews strategies with young patients for improving pitching mechanics and arm/core strength that can also help with recovery.
Many arm injuries in young pitchers and players can be a result of not enough rest during the baseball season and between seasons, especially for multi-sport athletes, according to Dr. Makhni.
Dr. Makhni offered these tips for players, coaches and parents to prevent and reduce the risk of injury from overuse:
Follow pitch counts and rest periods.
Avoid multiple teams with overlapping season.
Follow pitch count guidelines established by your league.
Warm up properly by stretching, running and easy, gradual throwing.
Rotate playing other positions besides pitcher.
Learn good throwing mechanics early.
Pain and soreness are signs that something is wrong, don't try to pitch through the pain.
Speak up to your coaches and parents at the first sign of any shoulder or elbow pain.
Play multiple sports to give your arm a rest and allow for normal growth processes.
###
MEDIA CONTACT: Sal Giacona/sgiacon1@hfhs.org / 313-421-9108
About Henry Ford Health System
Founded in 1915 by Henry Ford himself, Henry Ford Health System is a non-profit, integrated health system committed to improving people's lives through excellence in the science and art of healthcare and healing. Henry Ford Health System includes Henry Ford Medical Group, with more than 1,900 physicians and researchers practicing in more than 50 specialties at locations throughout Southeast and Central Michigan. Acute care hospitals include Henry Ford Hospital in Detroit, MI and Henry Ford Allegiance Health in Jackson, MI – both Magnet® hospitals; Henry Ford Macomb Hospital; Henry Ford West Bloomfield Hospital; and Henry Ford Wyandotte Hospital.
The largest of these is Henry Ford Hospital in Detroit, a quaternary care research and teaching hospital and Level 1 Trauma Center recognized for clinical excellence in cardiology, cardiovascular surgery, neurology, neurosurgery, and multi-organ transplants. The health system also provides comprehensive, best-in-class care for cancer at the Brigitte Harris Cancer Pavilion, and orthopedics and sports medicine at the William Clay Ford Center for Athletic Medicine – both in Detroit.
As one of the nation's leading academic medical centers, Henry Ford Health System annually trains more than 3,000 medical students, residents, and fellows in more than 50 accredited programs, and has trained nearly 40% of the state's physicians. Our dedication to education and research is supported by nearly $100 million in annual grants from the National Institutes of Health and other public and private foundations.
Henry Ford's not-for-profit health plan, Health Alliance Plan (HAP), provides health coverage for more than 540,000 people.
Henry Ford Health System employs more than 33,000 people, including more than 1,600 physicians, more than 6,600 nurses and 5,000 allied health professionals.