Henry Ford Health System is Enrolling Children for Moderna Vaccine Study
May 27, 2021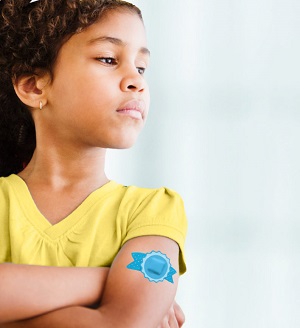 DETROIT (May 27, 2021) – Henry Ford Health System announced today that it has opened enrollment for Moderna's COVID-19 vaccine study for children ages 6 months to 11 years old. Henry Ford is the only enrollment site in Michigan for the vaccine study.
The KidCOVE study will evaluate the safety and efficacy of Moderna's mRNA-1273 vaccine for this group of young children. This is the same vaccine that was given Emergency Use Authorization by the FDA for adults 18 and older. Moderna said this week that it would apply for authorization in June to use the vaccine for 12- to 17-year-olds. To date, more than 122 million doses of the Moderna vaccine have been administered in the United States and more than 53 million people are fully vaccinated with it.
KidCOVE is the fourth COVID-19 vaccine trial for which Henry Ford has been selected as a study site. The health system was a Phase 3 study site and the only Michigan site for Moderna's two-dose adult vaccine and for Johnson & Johnson's ENSEMBLE 1 one-dose and ENSEMBLE 2 two-dose adult vaccine.
"The more vaccine candidates we have for our young people, the better," said Adnan Munkarah, M.D., Executive Vice President and Chief Clinical Officer at Henry Ford. "We encourage parents to consider enrolling their children who may qualify for this vaccine study."
Dr. Munkarah said for the health system to be chosen a fourth time for a COVID-19 vaccine trial is a reflection of its research expertise and recruitment proficiency. "We're very proud to have an integral role in these important vaccine trials and our study teams have done a phenomenal job leading our efforts," he said.
KidCOVE is a randomized, placebo-controlled Phase 2/3 study that will evaluate the vaccine to determine which is the safest and most effective dose for these young children to protect them against COVID-19. In a Phase 2 study, the study vaccine, drug or treatment is given to a larger group of people to see if it is effective and to further evaluate its safety.
In a Phase 3 study, the study vaccine, drug or treatment is given to large groups of people to confirm its effectiveness, monitor side effects, compare it to commonly used treatments, and collect information that will allow the vaccine, drug or treatment to be used safely.
Parents may sign up their children for KidCOVE at this link www.henryford.com/modernakidcove on the Henry Ford website.
Participation in KidCOVE will last about 14 months and require both in-person clinic visits and virtual visits. Like the two-shot regimen for adults, the young participants will receive one injection about 28 days apart. Neither the participants or their parents will know whether they received the study vaccine or a placebo injection. All participants will be closely monitored by the study team.
Typically, vaccines for viruses are made from a weakened or inactive (not live) virus, but the mRNA-1273 study vaccine is different. It is made from an instructional molecule called mRNA that tells your cells how to make protein. In this case, the protein is a small part of the virus that is thought to help the body's immune system protect against COVID-19.
###
NEWS MEDIA ONLY may contact: David Olejarz / David.Olejarz@hfhs.org / 313-303-0606
About Henry Ford Health System
Founded in 1915 by Henry Ford himself, Henry Ford Health System is a non-profit, integrated health system committed to improving people's lives through excellence in the science and art of healthcare and healing. Henry Ford Health System includes Henry Ford Medical Group, with more than 1,900 physicians and researchers practicing in more than 50 specialties at locations throughout Southeast and Central Michigan. Acute care hospitals include Henry Ford Hospital in Detroit, MI and Henry Ford Allegiance Health in Jackson, MI – both Magnet® hospitals; Henry Ford Macomb Hospital; Henry Ford West Bloomfield Hospital; and Henry Ford Wyandotte Hospital.
The largest of these is Henry Ford Hospital in Detroit, a quaternary care research and teaching hospital and Level 1 Trauma Center recognized for clinical excellence in cardiology, cardiovascular surgery, neurology, neurosurgery, and multi-organ transplants. The health system also provides comprehensive, best-in-class care for cancer at the Brigitte Harris Cancer Pavilion, and orthopedics and sports medicine at the William Clay Ford Center for Athletic Medicine – both in Detroit. As one of the nation's leading academic medical centers, Henry Ford Health System annually trains more than 3,000 medical students, residents, and fellows in more than 50 accredited programs, and has trained nearly 40% of the state's physicians. Our dedication to education and research is supported by nearly $100 million in annual grants from the National Institutes of Health and other public and private foundations.
Our not-for-profit health plan, Health Alliance Plan (HAP) provides health coverage for more than 540,000 people.
Henry Ford Health System employs more than 33,000 people, including more than 1,600 physicians, more than 6,600 nurses and 5,000 allied health professionals.