Gribble Exercise Room at Henry Ford Hospital Helps Lung Transplant Patients Recover
June 30, 2021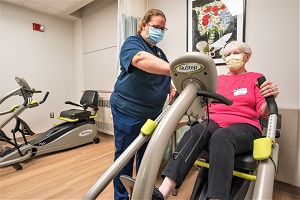 DETROIT (June 30, 2021) – Research shows that active people who undergo an organ transplant are much more likely to recover quickly. A newly unveiled exercise room at Henry Ford Hospital in Detroit aims to do just that for patients awaiting a lung transplant or recovering from one.
The Gribble Exercise Room was made possible by a generous gift from Elizabeth Gribble, a double-lung transplant patient herself, and her husband Kenneth.
"I was a reluctant exerciser, so it's kind of ironic that our gift is supporting a rehab room," quipped Gribble, 74, a resident of Plymouth who received her transplant in 2016. "I have experienced first-hand the glorious benefits of being an organ recipient and am well aware just how crucial it is to take care of this gift."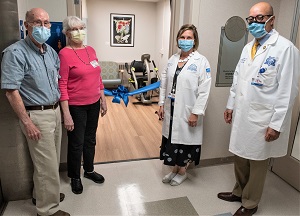 The Gribbles, married for 52 years and retired from Ford Motor Co., have always had a passion for supporting causes important to them. "I owe a debt of gratitude to so many – my donor and my doctors and therapists who all played a significant role in helping me to restore my life," Gribble said.
Having an area with stationary equipment where patients can exercise, has long been a resource that the transplant and rehab staffs have lobbied for, said Lisa Allenspach, M.D., medical director of the lung transplant program.
"The exercise room will be an important enhancement to the work we are doing with patients to help them keep up their strength while awaiting a transplant and rebuild their strength after transplant," Dr. Allenspach said. "We are forever grateful for the Gribble's generosity".
Post-transplant, regular light to moderate physical activity such as walking or cycling is recommended for patients. It helps clear their new lungs and minimizes potential side effects, which could include pneumonia and deconditioning. The sooner a patient becomes physically active, the better they will start to feel, Dr. Allenspach said.
The room was completed nearly five years to the day Gribble received her transplant. A week after she was listed on the national donor registry, Gribble received a new a set of lungs.
At the room's unveiling, assisted by her former physical therapist, an enthusiastic Gribble tried out the shiny new equipment. "I absolutely want for other patients to have the best possible care they can get and for them to stay positive," she said.
As patients are working to build their physical strength, special artwork surrounding them is designed to stimulate a sense of emotional and mental wellbeing. One of the walls is adorned with the painting of a garden, with flowers in full bloom. The painting was created by Henry Ford pulmonologist Rana Awdish, M.D., in hope of inspiring all forms of healing.
###
MEDIA CONTACT: Synthia Bryant / sbryant3@hfhs.org / 248-421-8686
About Henry Ford Health System
Founded in 1915 by Henry Ford himself, Henry Ford Health System is a non-profit, integrated health system committed to improving people's lives through excellence in the science and art of healthcare and healing. Henry Ford Health System includes Henry Ford Medical Group, with more than 1,900 physicians and researchers practicing in more than 50 specialties at locations throughout Southeast and Central Michigan. Acute care hospitals include Henry Ford Hospital in Detroit, MI and Henry Ford Allegiance Health in Jackson, MI – both Magnet® hospitals; Henry Ford Macomb Hospital; Henry Ford West Bloomfield Hospital; and Henry Ford Wyandotte Hospital.
The largest of these is Henry Ford Hospital in Detroit, a quaternary care research and teaching hospital and Level 1 Trauma Center recognized for clinical excellence in cardiology, cardiovascular surgery, neurology, neurosurgery, and multi-organ transplants. The health system also provides comprehensive, best-in-class care for cancer at the Brigitte Harris Cancer Pavilion, and orthopedics and sports medicine at the William Clay Ford Center for Athletic Medicine – both in Detroit.
As one of the nation's leading academic medical centers, Henry Ford Health System annually trains more than 3,000 medical students, residents, and fellows in more than 50 accredited programs, and has trained nearly 40% of the state's physicians. Our dedication to education and research is supported by nearly $100 million in annual grants from the National Institutes of Health and other public and private foundations.
Our not-for-profit health plan, Health Alliance Plan (HAP) provides health coverage for more than 540,000 people. Henry Ford Health System employs more than 33,000 people, including more than 1,600 physicians, more than 6,600 nurses and 5,000 allied health professionals.