Henry Ford Health System to Require COVID-19 Vaccination for its Workforce
June 29, 2021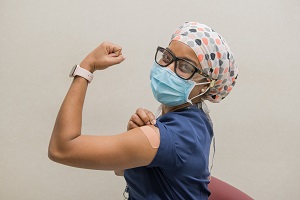 DETROIT (June 29, 2021) – Henry Ford Health System announced today it will require the COVID-19 vaccination for its workforce. The requirement will take effect on Sept. 10, 2021, and applies to all team members, students, volunteers and contractors. In making the announcement, Henry Ford becomes the first health system in Michigan to require the COVID-19 vaccination, and the latest to join other U.S. health systems to do so.
"We acknowledge the magnitude of this decision and we did not make it lightly," said President and CEO Wright Lassiter III. "As a leader and trusted voice in our communities, our patients and members depend on us to create a safe, healthy environment. We owe that same promise to our team members. Safety and infection prevention are everyone's responsibility."
Vaccinations are credited with the sharp decline in COVID-19 hospitalizations and cases, as well as a vastly lower positivity rate. Currently, total COVID-19 admissions across all Henry Ford's hospitals are around 20, the lowest number since the early days of the pandemic. Still, emerging variants like Delta put those who are unvaccinated at extremely high risk for hospitalization and death and leave hospitals vulnerable to potential future surges.
"We have consistently advocated for vaccination as the best path forward for all of us," said Bob Riney, President of Healthcare Operations and Chief Operating Officer. "But for vaccinations to truly make a deep and lasting impact on this pandemic, we need everyone in this fight. There is no greater compassion we can show each other than to be vigilant about safety and preventing the spread of this devastating disease."
The vaccines were granted emergency use authorization by the FDA, beginning with Pfizer in December 2020. Since vaccinations began at Henry Ford on Dec. 17, 2020, Henry Ford's vaccination rate across the health system is 68%, or just over 23,000 team members. In Michigan, 61.4% of people ages 16 and older have received at least one dose of vaccine.
Henry Ford has been at the forefront of COVID-19 vaccine research, serving as a Phase 3 study site for three vaccine adult clinical trials: the two-dose Moderna vaccine and one-dose and two-dose Johnson & Johnson vaccine. Last month, the health system began enrolling volunteers in a Moderna vaccine study for children ages 6 months to 11 years old.
"The data and science continues to reinforce the safety and effectiveness of these vaccines," said Adnan Munkarah, M.D., Executive Vice President and Chief Clinical Officer. "With the expectation that the FDA will grant permanent approval to Pfizer and other vaccinations soon, we believe this decision is in the best interest of our patients and members, our team members, and the communities we serve."
The decision to require a COVID-19 vaccination is consistent with existing vaccination policy at Henry Ford. Team members are required to get a flu shot every year and stay current with other vaccinations like measles, mumps, rubella and whooping cough.
Committed to building trust, being transparent, and answering questions, the health system will offer listening sessions throughout the summer to help team members navigate the mandate process. Those with valid medical or religious reasons can be exempt from vaccination.
"At the end of the day, we want all of our team members to be safe and healthy – protected from this virus and protecting those around them," said Lassiter. "When it comes to this complex decision, we will do the best and safest thing we can to achieve that goal. We are not the first healthcare organization to do this, and we will not be the last."
###
NEWS MEDIA ONLY may contact: David Olejarz / David.Olejarz@hfhs.org / 313-303-0606
About Henry Ford Health System
Founded in 1915 by Henry Ford himself, Henry Ford Health System is a non-profit, integrated health system committed to improving people's lives through excellence in the science and art of healthcare and healing. Henry Ford Health System includes Henry Ford Medical Group, with more than 1,900 physicians and researchers practicing in more than 50 specialties at locations throughout Southeast and Central Michigan. Acute care hospitals include Henry Ford Hospital in Detroit, MI and Henry Ford Allegiance Health in Jackson, MI – both Magnet® hospitals; Henry Ford Macomb Hospital; Henry Ford West Bloomfield Hospital; and Henry Ford Wyandotte Hospital.
The largest of these is Henry Ford Hospital in Detroit, a quaternary care research and teaching hospital and Level 1 Trauma Center recognized for clinical excellence in cardiology, cardiovascular surgery, neurology, neurosurgery, and multi-organ transplants. The health system also provides comprehensive, best-in-class care for cancer at the Brigitte Harris Cancer Pavilion, and orthopedics and sports medicine at the William Clay Ford Center for Athletic Medicine – both in Detroit. As one of the nation's leading academic medical centers, Henry Ford Health System annually trains more than 3,000 medical students, residents, and fellows in more than 50 accredited programs, and has trained nearly 40% of the state's physicians. Our dedication to education and research is supported by nearly $100 million in annual grants from the National Institutes of Health and other public and private foundations.
Our not-for-profit health plan, Health Alliance Plan (HAP) provides health coverage for more than 540,000 people.
Henry Ford Health System employs more than 33,000 people, including more than 1,600 physicians, more than 6,600 nurses and 5,000 allied health professionals.