Back to School COVID-19 Safety Guidance for Parents, Students
August 11, 2021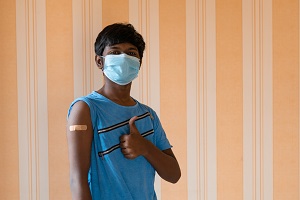 DETROIT (August 11, 2021) – The interim chair of Pediatrics at Henry Ford Health System on Wednesday strongly recommended vaccination and universal mask wearing for K-12 students, teachers and staff returning to the classroom for the start of the new school year. Anyone ages 12 and older are eligible for the COVID-19 vaccine.
"I know some parents are still struggling with whether to get their eligible children vaccinated," Tisa Johnson-Hooper, M.D., said during a briefing with reporters. "I'm here to tell you, as a parent of a child who was vaccinated, it is the right – and the safe—thing to do."
Dr. Johnson-Hooper said she supports social distancing in classrooms and encouraged parents to learn about their children's safety plans at school and to speak up if those plans fall short of protecting their children. She cited the American Academy of Pediatrics as a reputable source that recommends a mask mandate for all children.
"If your school doesn't have a mask mandate or social distancing requirement, I want to encourage parents to be empowered and to speak up," she said. "Go to the school, talk to the principal, talk to the superintendent, encourage them to have that mask and social distancing mandate."
Dr. Johnson-Hooper also addressed common concerns she and other Henry Ford pediatricians are hearing from parents including whether children should get vaccinated if they've already had COVID. She said natural protection from the virus peaks at about six weeks post-recover and begins to drop three months after recovery. "The vaccine's protection lasts much longer," she said, "and provides some protection against the variants."
Henry Ford is the only enrollment site in Michigan for Moderna's KidCOVE pediatric vaccine study, which is evaluating the safety and appropriate vaccine dose for children 6 months to 11 years old. Because the study is ongoing, she couldn't provide details about participation. She did say that Henry Ford has enrolled a diverse patient population.
"We are very pleased with the interest shown by parents and their children," she said. "The children enrolled in this study are true heroes as we look to determine which is the safest and most effective vaccine dose for protecting them."
With the start of the new school year weeks away, COVID hospitalizations are soaring in Michigan. In just four weeks, hospitalizations have increased four-fold across Henry Ford's hospitals, said Bob Riney, President of Healthcare Operations and Chief Operating Officer. Currently, 82 patients are hospitalized, with the vast majority unvaccinated.
"This virus is not through with us," he said. "We have to get vaccinated. We have to go back to mask wearing to make sure we're all doing our part."
Nationally, more than 195 million in the U.S. have received at least one dose of the vaccine. At Henry Ford, vaccinations have increased in each of the last three weeks. During the week of Aug. 1, 1,700 shots were administered, the highest weekly number seen since mid-June. Riney said Henry Ford's workforce vaccination rate is approaching 80%.
In a message of appreciation for team members, Riney said "I want to be sure we continue to embrace them, to support them and to recognize them for everything they are doing."
"We can't say it enough. Our healthcare teams, the emergency responders, first responders have just been the heroes and continue to be the heroes. Whether it's a physician or a nurse, a rehab person, and support staff. They've been here 24/7 for us, whenever we needed them.
"Once again, our teams are stepping up to really show what they're made of. They continue to navigate this pandemic. But let's not make a mistake in thinking they're not exhausted, that this isn't incredibly stressful for them. They're emotionally taxed."
Riney urged the community to yet again step up its "collective diligence and play like a team and work like a team so we don't experience some of the levels (of hospitalizations) our sister and brother states in the country are experiencing."
"We're calling on the community to rally around these tired healthcare heroes and really support them. And not just support them by giving them a cheer, support them by helping. Helping by mask wearing. Helping by getting vaccinated."
###
NEWS MEDIA ONLY may contact: David Olejarz / David.Olejarz@hfhs.org / 313-303-0606
About Henry Ford Health System
Founded in 1915 by Henry Ford himself, Henry Ford Health System is a non-profit, integrated health system committed to improving people's lives through excellence in the science and art of healthcare and healing. Henry Ford Health System includes Henry Ford Medical Group, with more than 1,900 physicians and researchers practicing in more than 50 specialties at locations throughout Southeast and Central Michigan. Acute care hospitals include Henry Ford Hospital in Detroit, MI and Henry Ford Allegiance Health in Jackson, MI – both Magnet® hospitals; Henry Ford Macomb Hospital; Henry Ford West Bloomfield Hospital; and Henry Ford Wyandotte Hospital.
The largest of these is Henry Ford Hospital in Detroit, a quaternary care research and teaching hospital and Level 1 Trauma Center recognized for clinical excellence in cardiology, cardiovascular surgery, neurology, neurosurgery, and multi-organ transplants. The health system also provides comprehensive, best-in-class care for cancer at the Brigitte Harris Cancer Pavilion, and orthopedics and sports medicine at the William Clay Ford Center for Athletic Medicine – both in Detroit. As one of the nation's leading academic medical centers, Henry Ford Health System annually trains more than 3,000 medical students, residents, and fellows in more than 50 accredited programs, and has trained nearly 40% of the state's physicians. Our dedication to education and research is supported by nearly $100 million in annual grants from the National Institutes of Health and other public and private foundations.
Our not-for-profit health plan, Health Alliance Plan (HAP) provides health coverage for more than 540,000 people.
Henry Ford Health System employs more than 33,000 people, including more than 1,600 physicians, more than 6,600 nurses and 5,000 allied health professionals.