This Retired NHL Goalie Received the Ultimate Save
September 23, 2021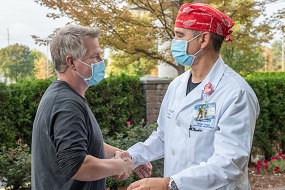 DETROIT (September 23, 2021) – Retired NHL goalie Manny Legace knows the importance of making crucial saves at the right time. Now, he's grateful for the timely care he received from the team of doctors and nurses at Henry Ford Macomb Hospital, who he credits with saving his life after testing positive with COVID-19.
"I can't say enough great things about what Henry Ford Macomb did for me," said Legace. "Every nurse and doctor in the ER and ICU floor who took care of me were absolutely first-class, amazing people."
Legace is the current goaltending coach for the NHL's Columbus Blue Jackets. In his 18-year playing career, he played with five NHL teams, including the Detroit Red Wings and their 2002 Stanley Cup team.
Legace and his wife Giana began experiencing COVID-19 symptoms around Aug. 19. While his wife's symptoms were mild and short-lived, his condition worsened. By Labor Day, Sept. 6, Giana became very concerned for him and reached out to family friend Anthony Colucci, D.O., Medical Director at Henry Ford Macomb Hospital's emergency department.
"When I talked to Manny's wife, he was struggling with his breathing," said Dr. Colucci, who recommended she call 911 and get her husband to the nearest hospital. Instead, Giana insisted on making the hour drive from Novi to Henry Ford Macomb in Clinton Township.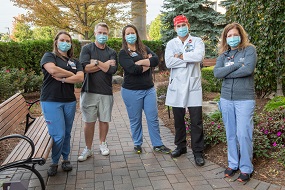 Dr. Colucci met Legace at the ER entrance. "He was on the cusp of being intubated by the time he arrived for treatment," said Dr. Colucci. With Legace's oxygen saturation level at 77 percent, Dr. Colucci immediately put him on oxygen treatment. Legace also received remdesivir, an antiviral medicine that works to stop the virus from spreading.
After imaging tests revealed blood clots in his lungs, Legace was admitted to the intensive care unit. He was released from the hospital on Sept. 12.
Nasir Husain, M.D., Chief of Infectious Disease at Henry Ford Macomb, said Legace was very sick but was fortunate to not require a ventilator. Dr. Husain recommends that people who experience COVID-like symptoms, especially those with existing medical conditions who may be at higher risk, should get tested and seek medical care immediately.
The day after his release from the hospital, Legace posted a message of gratitude on his Instagram channel to thank the Henry Ford Macomb staff that took care of him. "My words cannot express how grateful I am to my wife GI, Henry Ford Macomb Hospital, Dr. Colucci and Dr. Husain and the entire ICU unit, who are an amazing staff. Thank you for #savedmylife."
He also warned people of the seriousness of COVID-19. "This disease is not a joke."
Legace, who was previously scheduled to receive his COVID-19 vaccine on Sept. 1, is now expected to receive it in about 8 weeks, per CDC guidelines. The CDC recommends vaccination because it better protects people after having COVID-19.
Since leaving the hospital, Legace said he feels sluggish but understands that it will take time to get over the effects of COVID-19.
"Drs. Husain and Colucci and the ICU staff saved my life, along with my wife who got me to the hospital," said Legace, "Had I waited longer, and with those blood clots in my lungs, it could have been over for me. Don't know if my heart could have taken that hit.
"I've never been around more professional people in my entire life. I love them so much, it's unbelievable how great the people were at Henry Ford Macomb," he added.
###
NEWS MEDIA ONLY may contact: Sal Giacona / sgiacon1@hfhs.org / 313-421-9108
About Henry Ford Health System
Founded in 1915 by Henry Ford himself, Henry Ford Health System is a non-profit, integrated health system committed to improving people's lives through excellence in the science and art of healthcare and healing. Henry Ford Health System includes Henry Ford Medical Group, with more than 1,900 physicians and researchers practicing in more than 50 specialties at locations throughout Southeast and Central Michigan. Acute care hospitals include Henry Ford Hospital in Detroit, MI and Henry Ford Allegiance Health in Jackson, MI – both Magnet® hospitals; Henry Ford Macomb Hospital; Henry Ford West Bloomfield Hospital; and Henry Ford Wyandotte Hospital.
The largest of these is Henry Ford Hospital in Detroit, a quaternary care research and teaching hospital and Level 1 Trauma Center recognized for clinical excellence in cardiology, cardiovascular surgery, neurology, neurosurgery, and multi-organ transplants. The health system also provides comprehensive, best-in-class care for cancer at the Brigitte Harris Cancer Pavilion, and orthopedics and sports medicine at the William Clay Ford Center for Athletic Medicine – both in Detroit.
As one of the nation's leading academic medical centers, Henry Ford Health System annually trains more than 3,000 medical students, residents, and fellows in more than 50 accredited programs, and has trained nearly 40% of the state's physicians. Our dedication to education and research is supported by nearly $100 million in annual grants from the National Institutes of Health and other public and private foundations.
Henry Ford's not-for-profit health plan, Health Alliance Plan (HAP), provides health coverage for more than 540,000 people.
Henry Ford Health System employs more than 33,000 people, including more than 1,600 physicians, more than 6,600 nurses and 5,000 allied health professionals.