Henry Ford Health System Achieves 98% COVID-19 Vaccination Compliance
September 13, 2021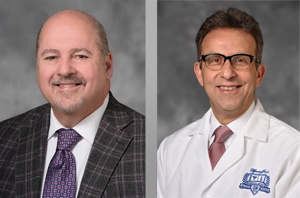 DETROIT (September 13, 2021) – Senior leaders at Henry Ford Health System announced Monday that 98 percent of its workforce is compliant with its COVID-19 vaccine requirement that took effect Sept. 10.
Under the requirement, team members were considered compliant if they were fully vaccinated, had received their first of a two-dose vaccine or had received an approved medical or religious exemption by midnight on Friday. Those who were not in compliance are now suspended and have until Oct. 1 to comply. Team members can return to work during that time frame as soon as they receive their first dose.
"We are incredibly proud of the commitment our team has made to public health, the health and safety of our patients and their families, and to themselves and their communities," said Bob Riney, President of Healthcare Operations and Chief Operating Officer, said during a briefing with reporters. "As you may remember, when we announced the vaccine requirement in late June, we were at a 68% vaccination rate. Today's update is a testament to how deeply our team cares about ending this pandemic."
Riney said the health system will "continue to work" with team members who demonstrate a willingness to meet the vaccine requirement. Any team member who chooses not to get vaccinated by Oct. 1 will voluntarily resign from the organization. He called the vaccine requirement a "potentially life-saving policy."
"It has long been our hope and goal to keep every member of our Henry Ford family," Riney said. "That's why it's important to note that even those who choose to resign because of our vaccine requirement will have the option to re-apply if they change their mind and decide to get vaccinated."
Monday's announcement came amid increasing COVID-19 infections and hospitalizations across the state of Michigan. Infections are up 22% and hospitalizations are up 15% in the past two weeks.
Henry Ford reported 129 hospitalizations across its five hospitals. The majority of those – 79% - are unvaccinated patients.
"What we are seeing consistently now is that this a pandemic of the unvaccinated," said Adnan Munkarah, M.D., Executive Vice President and Chief Clinical Officer. "We cannot afford to have the numbers of COVID patients in our hospitals go any higher. We have gone throughthree major surges and we are seeing signs of (another) surge."
With bed capacity at 95% and staffing levels diminished, Dr. Munkarah said 120 beds were temporarily closed (out of 2,000 available beds) across the health system. He emphasized, though, that the level of care is not impacted.
"Our patients continue to receive the highest and safest level of appropriate care from our care teams," Dr. Munkarah said, adding that bed capacity is being flexed to allow for a full spectrum of services to maintained at all Henry Ford hospitals. He urged people not to delay any emergent or critical medical situation.
"We have seen in the past year and a half that delaying care has resulted in bad outcomes that could have been prevented related to cardiac disease, stroke, cancer as well as other conditions," he said.
Dr. Munkarah said vaccination and masking remain the two most important preventive measures people can take to turn the corner on the pandemic. He pointed to a recent CDC analysis that found vaccinated people are 10 times less likely to be hospitalized for COVID.
"This is why all along we have supported every effort to increase vaccination rate that has been advanced by many industries and by the federal government," he said. "It aligns with our belief that vaccination is our way out of this pandemic. It drives down infections, it prevents people from getting too sick and dying of COVID."
###
NEWS MEDIA ONLY may contact: David Olejarz / David.Olejarz@hfhs.org / 313-303-0606
About Henry Ford Health System
Founded in 1915 by Henry Ford himself, Henry Ford Health System is a non-profit, integrated health system committed to improving people's lives through excellence in the science and art of healthcare and healing. Henry Ford Health System includes Henry Ford Medical Group, with more than 1,900 physicians and researchers practicing in more than 50 specialties at locations throughout Southeast and Central Michigan. Acute care hospitals include Henry Ford Hospital in Detroit, MI and Henry Ford Allegiance Health in Jackson, MI – both Magnet® hospitals; Henry Ford Macomb Hospital; Henry Ford West Bloomfield Hospital; and Henry Ford Wyandotte Hospital.
The largest of these is Henry Ford Hospital in Detroit, a quaternary care research and teaching hospital and Level 1 Trauma Center recognized for clinical excellence in cardiology, cardiovascular surgery, neurology, neurosurgery, and multi-organ transplants. The health system also provides comprehensive, best-in-class care for cancer at the Brigitte Harris Cancer Pavilion, and orthopedics and sports medicine at the William Clay Ford Center for Athletic Medicine – both in Detroit. As one of the nation's leading academic medical centers, Henry Ford Health System annually trains more than 3,000 medical students, residents, and fellows in more than 50 accredited programs, and has trained nearly 40% of the state's physicians. Our dedication to education and research is supported by nearly $100 million in annual grants from the National Institutes of Health and other public and private foundations.
Our not-for-profit health plan, Health Alliance Plan (HAP) provides health coverage for more than 540,000 people.
Henry Ford Health System employs more than 33,000 people, including more than 1,600 physicians, more than 6,600 nurses and 5,000 allied health professionals.