Henry Ford Health System Unveils COVID-19 Tributes
October 25, 2021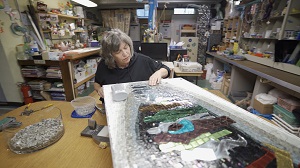 DETROIT (October 25, 2021) -- Henry Ford Health System this week begins unveiling custom art pieces reflecting and celebrating the diversity of its team members and their unique experiences through the COVID-19 pandemic.
This project, made possible through Henry Ford's COVID-19 Relief Fund, is part of the health system's ongoing efforts and initiatives to provide direct emotional support for team members.
"As an organization we understand that art is synonymous with healing," said Henry Ford Health System President & CEO Wright Lassiter III. "A healing arts journey like this frankly represents fuel. Fuel that should uplift our souls and feed us when we're feeling down. Art transforms, art inspires, and art uplifts."
Throughout the creation process, artists have engaged with Henry Ford team members to understand what they have endured both personally and professionally through the pandemic. Their collective experiences are infused into the resulting work.
"The artwork will be prominently displayed as an ongoing tribute to our teams and their dedication, resiliency, compassion and perseverance in overcoming this truly difficult time in our history," said Megan Winkel, Lindsay Anderson Healing Arts Curator and manager of the Healing Arts Program at Henry Ford Cancer Institute.
The artists were chosen by committees of team members at each of the 10 Henry Ford Health System locations where the art will be installed. The selected artists and the sites where their work will be installed are:
Darin Darby, Henry Ford Allegiance Hospital

Desiree Kelly, Henry Ford West Bloomfield Hospital

Sue Majewski, Henry Ford Macomb Hospital

Carole Morisseau, Henry Ford Hospital

Andrew Morton & Desiree Duell, One Ford Place

The Nordin Brothers, Community Care Services

Pat Perry, Henry Ford Wyandotte Hospital

Pewabic Pottery, Maplegrove

Clinton Snider, HAP Corporate Offices

Treetown Murals, Kingswood
More than 100 artists or artist teams responded to a public call for proposals. The artists who have been selected work in a range of mediums including textile, collage and ceramic.
The custom art pieces will be installed and unveiled throughout the fall and winter of 2021.
NEWS MEDIA ONLY may contact: Dana Jay / djay2@hfhs.org / 847-530-0320
###
About Henry Ford Health System
Founded in 1915 by Henry Ford himself, Henry Ford Health System is a non-profit, integrated health system committed to improving people's lives through excellence in the science and art of healthcare and healing. Henry Ford Health System includes Henry Ford Medical Group, with more than 1,900 physicians and researchers practicing in more than 50 specialties at locations throughout Southeast and Central Michigan. Acute care hospitals include Henry Ford Hospital in Detroit, MI and Henry Ford Allegiance Health in Jackson, MI – both Magnet® hospitals; Henry Ford Macomb Hospital; Henry Ford West Bloomfield Hospital; and Henry Ford Wyandotte Hospital.
The largest of these is Henry Ford Hospital in Detroit, a quaternary care research and teaching hospital and Level 1 Trauma Center recognized for clinical excellence in cardiology, cardiovascular surgery, neurology, neurosurgery, and multi-organ transplants. The health system also provides comprehensive, best-in-class care for cancer at the Brigitte Harris Cancer Pavilion, and orthopedics and sports medicine at the William Clay Ford Center for Athletic Medicine – both in Detroit.
As one of the nation's leading academic medical centers, Henry Ford Health System annually trains more than 3,000 medical students, residents, and fellows in more than 50 accredited programs, and has trained nearly 40% of the state's physicians. Our dedication to education and research is supported by nearly $100 million in annual grants from the National Institutes of Health and other public and private foundations.
Henry Ford's not-for-profit health plan, Health Alliance Plan (HAP), provides health coverage for more than 540,000 people.
Henry Ford Health System employs more than 33,000 people, including more than 1,600 physicians, more than 6,600 nurses and 5,000 allied health professionals.