Your Checklist for Flu Season: Flu Shot, COVID Shot and Mask
October 21, 2021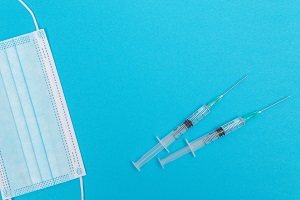 DETROIT (October 21, 2021) – With flu season approaching and COVID-19 hospitalizations of unvaccinated patients at worrisome levels, Henry Ford Health System strongly urged vaccination against both viruses and mask wearing to prevent further strain on hospitals and their healthcare workers.
The COVID vaccines are free and widely available including the third-dose Pfizer booster. A decision from the CDC is expected soon on booster doses for the Modern and J&J vaccines after the FDA authorized their use this week and said Americans can choose a different vaccine from their original. The flu vaccine is recommended for anyone 6 months and older. Thousands of people die every year of influenza, said Allison Weinmann, M.D., an infectious diseases senior staff physician and Medical Director of Antimicrobial Stewardship.
"Flu is not a nothing burger," Dr. Weinmann said during a briefing with reporters Thursday. "Flu by itself can cause significant morbidity and mortality. "We do worry about people getting flu and covid at the same time this year. Both of them can cause significant disease and death and can you only imagine treating a patient who has both."
Dr. Weinmann said it is safe to receive the COVID and flu vaccines at the same visit. It takes about two weeks for each vaccine to provide full protection.
Dennis Cunningham, M.D., System Medical Director of Infection Control and Prevention and a pediatrician, said the health system continues to be fully operational but warned that a flu outbreak could be a tipping point.
"If we get a big flu outbreak at the same time of these COVID cases, it's going to put more stress on hospitals," he said. "That's why we're asking people – wear the mask, based on the science, and get the vaccine. That's what we need to do so we don't get to a crisis state."
Since early October, Henry Ford has seen a steady increase in COVID hospitalizations. As of Thursday morning, the health system reported 181 hospitalizations, up from 144 two weeks ago. Statewide, hospitalizations have jumped 24% in the past two weeks. As the pace of hospitalizations has increased, so too has the pace of infections. For the week ending October 10, Henry Ford reported 779 COVID positive PCR test result, an increase of nearly 47% from the week of September 12.
"Like other hospitals in Michigan and across the country, the vast majority of people being hospitalized, being admitted to the ICU and being placed on a ventilator are unvaccinated," Dr. Cunningham said.
In Michigan, 3 million people remain unvaccinated.
"The only way for us to get to the other side of the pandemic is for more people to get the immunization," Dr. Cunningham said. "Not just to protect themselves – but also their children who are not eligible for vaccination, other family members, their grandparents and friends and coworkers."
Dr. Cunningham also addressed concerns with rising incidence of the respiratory syncytial virus, or RSV. Already this year, RSV activity is higher than expected across Michigan and nationally. The virus is highly contagious and spreads through droplets in the air, similar to COVID and the flu. Common symptoms are coughing, sneezing, wheezing and fever.
RSV affects mostly children under age 5 but adults 65 and older are also susceptible.
"If you think your child has RSV and appears to be having trouble breathing or fast breathing, it's important that you contact your medical provider or seek care," Dr. Cunningham said, adding that because these children are too young to wear a mask, older children and adults can protect them by masking up themselves.
Dr. Weinmann cautioned people not to delay seeking care at the hospital, which could only exacerbate their health issue.
"Our health systems are safe for folks who have neglected their health because of the fear of covid. We're going to make sure you're well cared for. And we don't want you to neglect your other health care items such as cancer screenings and other conditions that are chronic," she said.
Both COVID and influenza are preventable diseases with vaccines, Dr. Weinmann said.
"We are so lucky in this pandemic to now be in the position where we have vaccines," she said. "These are vaccine preventable illnesses. It would be a great shame to see people in the hospital, which we're seeing, who have not received vaccine. This is really easy. Terrible diseases that likely are going to multiply if one got flu and covid at the same time. Please go out and get vaccinated."
###
NEWS MEDIA ONLY may contact: David Olejarz / David.Olejarz@hfhs.org / 313-303-0606
About Henry Ford Health System
Founded in 1915 by Henry Ford himself, Henry Ford Health System is a non-profit, integrated health system committed to improving people's lives through excellence in the science and art of healthcare and healing. Henry Ford Health System includes Henry Ford Medical Group, with more than 1,900 physicians and researchers practicing in more than 50 specialties at locations throughout Southeast and Central Michigan. Acute care hospitals include Henry Ford Hospital in Detroit, MI and Henry Ford Allegiance Health in Jackson, MI – both Magnet® hospitals; Henry Ford Macomb Hospital; Henry Ford West Bloomfield Hospital; and Henry Ford Wyandotte Hospital.
The largest of these is Henry Ford Hospital in Detroit, a quaternary care research and teaching hospital and Level 1 Trauma Center recognized for clinical excellence in cardiology, cardiovascular surgery, neurology, neurosurgery, and multi-organ transplants. The health system also provides comprehensive, best-in-class care for cancer at the Brigitte Harris Cancer Pavilion, and orthopedics and sports medicine at the William Clay Ford Center for Athletic Medicine – both in Detroit. As one of the nation's leading academic medical centers, Henry Ford Health System annually trains more than 3,000 medical students, residents, and fellows in more than 50 accredited programs, and has trained nearly 40% of the state's physicians. Our dedication to education and research is supported by nearly $100 million in annual grants from the National Institutes of Health and other public and private foundations.
Our not-for-profit health plan, Health Alliance Plan (HAP) provides health coverage for more than 540,000 people.
Henry Ford Health System employs more than 33,000 people, including more than 1,600 physicians, more than 6,600 nurses and 5,000 allied health professionals.