'A Huge Moment of Pride for Us'
October 5, 2021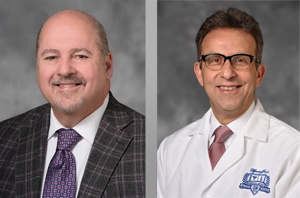 DETROIT (October 5, 2021) – Henry Ford Health System reported Tuesday that 99 percent of its workforce is compliant with its COVID-19 vaccination requirement. The figure means team members are either fully vaccinated, on the way to completing a two-dose regimen or received an approved medical or religious exemption.
"This is a true testament to Team Henry Ford Health and how much our team cares about your health, the community's health, their own health and the health of their teammates," said Bob Riney, President of Healthcare Operations and Chief Operating Officer, during a briefing with reporters. "We're really grateful for their dedication."
On June 29, Henry Ford became the first health system in Michigan to announce a vaccine requirement for its workforce. At the time of the announcement, the workforce vaccination rate was 68%. The requirement took effect Sept. 10.
Key compliance numbers released Thursday:
More than 30,000 team members are fully vaccinated
About 1,900 team members, or 6 percent of the workforce, received an approved medical or religious exemption. The number of exemptions is expected to wane should the COVID-19 vaccine become part of regular vaccination maintenance, like the flu vaccine
About 400 team members, or about 1 percent of the workforce, have voluntarily resigned because of the requirement. Should these team members "have a change of heart and become vaccinated" they can apply for a job at Henry Ford. "We are doing all we can to keep those doors open," Riney said. "Whatever their choice, we wish them the very best and appreciate the years of service they provided our community and organization."
Riney said new hires are already offsetting those team members who resigned, adding that Henry Ford is actively recruiting and hiring as part of an aggressive short-term and long-term strategy. Hiring fairs are planned for October 7 and October 12 at multiple Henry Ford locations.
Riney commended the 99 percent vaccine compliance as a "huge moment of pride for us." He said team members' feedback was "overwhelmingly" in support of the requirement.
"We want to lead, and we know that vaccinations are the way for us to get out of this pandemic," Riney said. "Vaccinations are the key. If we sound like a broken record, we are. We know what it will take to continue to beat this pandemic and we're showing our leadership in doing so."
The heartened news about vaccinations came amid the sobering news that October marked the 19th month of the pandemic and that 144 patients were hospitalized for COVID across the health system. On this day one year ago, there were 65 hospitalizations and an emerging sense of optimism that better days were ahead.
Despite the availability of vaccine, infections and hospitalizations continue to fuel the pandemic. The vast majority of those hospitalized are unvaccinated.
"We were really hoping we'd be in a better position than we are today," said Adnan Munkarah, M.D., Executive Vice President and Chief Clinical Officer. "The numbers continue to be worrisome, both in Michigan and nationally."
Dr. Munkarah said vaccination remains the most effective way to prevent and protect against COVID. The health system is now directing patients to schedule a vaccine appointment at one of its primary care locations using their MyChart account. Those who do not have a MyChart account can create one at www.henryford.com.
Under recommendations from the CDC, Henry Ford began offering the Pfizer third-dose booster dose to team members this week through its Employee Health clinics. A process is being finalized for patients who are eligible to receive the Pfizer booster at Henry Ford.
Because of the wide availability of COVID vaccine and COVID booster shots, Dr. Munkarah advised people to get theirs "where it's most convenient."
He noted a positive trend in increased volume of cases in cardiology, general medicine and pulmonary medicine, and that 15 beds have re-opened (from the 120 that were temporarily closed two weeks ago) using additional staffing. The health system's 96 percent bed capacity reflected COVID and non-COVID patients. A full spectrum of services continues to operate across all five of its acute-care hospitals.
"All hospitals routinely take beds offline as part of their regular management operations," Dr. Munkarah said.
Dr. Munkarah said this week's news about Merck's COVID pill, which was shown in a clinical trial to reduce hospitalization and death by 50 percent, provided a hopeful sign for another viable treatment option. However, he emphasized there was no substitute for vaccination. "Vaccination, over and over again, has shown that it is the solution (out of the pandemic)," he said.
###
NEWS MEDIA ONLY may contact: David Olejarz / David.Olejarz@HFHS.org / 313-303-0606
About Henry Ford Health System
Founded in 1915 by Henry Ford himself, Henry Ford Health System is a non-profit, integrated health system committed to improving people's lives through excellence in the science and art of healthcare and healing. Henry Ford Health System includes Henry Ford Medical Group, with more than 1,900 physicians and researchers practicing in more than 50 specialties at locations throughout Southeast and Central Michigan. Acute care hospitals include Henry Ford Hospital in Detroit, MI and Henry Ford Allegiance Health in Jackson, MI – both Magnet® hospitals; Henry Ford Macomb Hospital; Henry Ford West Bloomfield Hospital; and Henry Ford Wyandotte Hospital.
The largest of these is Henry Ford Hospital in Detroit, a quaternary care research and teaching hospital and Level 1 Trauma Center recognized for clinical excellence in cardiology, cardiovascular surgery, neurology, neurosurgery, and multi-organ transplants. The health system also provides comprehensive, best-in-class care for cancer at the Brigitte Harris Cancer Pavilion, and orthopedics and sports medicine at the William Clay Ford Center for Athletic Medicine – both in Detroit. As one of the nation's leading academic medical centers, Henry Ford Health System annually trains more than 3,000 medical students, residents, and fellows in more than 50 accredited programs, and has trained nearly 40% of the state's physicians.Our dedication to education and research is supported by nearly $100 million in annual grants from the National Institutes of Health and other public and private foundations.
Our not-for-profit health plan, Health Alliance Plan (HAP) provides health coverage for more than 540,000 people.
Henry Ford Health System employs more than 33,000 people, including more than 1,600 physicians, more than 6,600 nurses and 5,000 allied health professionals.