Family Caregiver Program Receives National Compassionate Caregiver of the Year Honor
November 4, 2021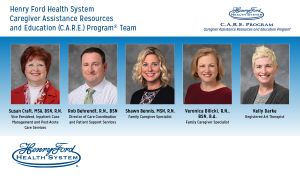 BOSTON (Nov. 4, 2021) — The Caregiver Assistance Resources and Education Program® at Henry Ford Health System is the recipient of the 2021 Compassionate Caregiver Award, which recognizes the family caregiver team's efforts and success at supporting thousands of caregivers - and in turn the loved ones they care for - in a variety of creative, impactful ways.
The annual award from the Schwartz Center for Compassionate Healthcare, a national nonprofit dedicated to putting compassion at the heart of healthcare, recognizes "extraordinary healthcare professionals from across the country who embody the characteristics of compassionate care and whose professional achievements have helped to create healing healthcare environments for patients, families, colleagues, and communities." Henry Ford's CARE team and six fellow recipients were honored at a virtual ceremony Nov. 4 held in Boston.
Henry Ford's C.A.R.E. team provides support groups, special events, classes from art therapy and advance directives to fall prevention, estate planning and yoga, along with a range of caregiver tools, including a caregiver concierge and caregiver binder for organizing caregiver tasks. It's all free and easily accessible by phone, email, social media or in person. The COVID-19 pandemic elevated the need to support caregivers and led to the creation of virtual offerings. They have proven such a good fit for caregivers that they are here to stay.
"We are honored to receive this distinguished recognition, especially for work that often goes unnoticed but directly benefits so many of our patients, employees and their caregivers," said Susan Craft, Vice President of Inpatient Case Management, Post-Acute Care and the Family Caregiver Program. "As our C.A.R.E. program has evolved, it has become clear that caregivers need to also focus on their own care and health. Our program meets that need by providing easily accessible support and resources."
This is the second time Henry Ford has received the Schwartz Center caregivers award. Rana Awdish, M.D., a pulmonary and critical care medicine physician, received the honor in 2017.
"We are honored to recognize these inspirational individuals and teams as the Schwartz Center's 2021 NCCY Award recipients," said Elizabeth Hickman, Schwartz Center interim CEO and COO. "Through their dedication to compassionate care, often in some of the most difficult circumstances, they have helped create healing healthcare environments for patients, families, and colleagues. They embody the values upon which the Schwartz Center was built."
In 2016, Henry Ford became the first health system in Michigan and one of a handful across the country to create a family caregiver program and make family caregivers an integral part of patients' discharge and care plans. The program launched following the passage of Michigan's Designated Caregiver Act to support caregivers. Henry Ford lobbied in support of the legislation. The program that launched following the passage has grown and is catered to caregivers' needs, connecting them with education, resources, support in an array of settings.
"When a caregiver is doing well, chances improve that the patient will do well," Craft said. "Whether family caregivers come from our own health system's employees or anyone in the community who is caring for friend, family or neighbor, we have seen the benefits of supporting caregivers. As we see those benefits, we continue to build the program around their needs and feedback."
Henry Ford's CARE Program includes:
MEDIA CONTACT: Kim North Shine / 313-549-4995 / knorth1@hfhs.org
About Henry Ford Health System
Founded in 1915 by Henry Ford himself, Henry Ford Health System is a non-profit, integrated health system committed to improving people's lives through excellence in the science and art of healthcare and healing. Henry Ford Health System includes Henry Ford Medical Group, with more than 1,900 physicians and researchers practicing in more than 50 specialties at locations throughout Southeast and Central Michigan. Acute care hospitals include Henry Ford Hospital in Detroit, MI and Henry Ford Allegiance Health in Jackson, MI – both Magnet® hospitals; Henry Ford Macomb Hospital; Henry Ford West Bloomfield Hospital; and Henry Ford Wyandotte Hospital. The largest of these is Henry Ford Hospital in Detroit, a quaternary care research and teaching hospital and Level 1 Trauma Center recognized for clinical excellence in cardiology, cardiovascular surgery, neurology, neurosurgery, and multi-organ transplants. The health system also provides comprehensive, best-in-class care for cancer at the Brigitte Harris Cancer Pavilion, and orthopedics and sports medicine at the William Clay Ford Center for Athletic Medicine – both in Detroit. As one of the nation's leading academic medical centers, Henry Ford Health System annually trains more than 3,000 medical students, residents, and fellows in more than 50 accredited programs, and has trained nearly 40% of the state's physicians. Our dedication to education and research is supported by nearly $100 million in annual grants from the National Institutes of Health and other public and private foundations. Our not-for-profit health plan, Health Alliance Plan (HAP) provides health coverage for more than 540,000 people. Henry Ford Health System employs more than 33,000 people, including more than 1,600 physicians, more than 6,600 nurses and 5,000 allied health professionals.
About the Schwartz Center for Compassionate Healthcare
Founded in 1995, the Schwartz Center for Compassionate Healthcare is a national organization whose mission is to put compassion at the heart of healthcare through programs, education and advocacy.
The Schwartz Center has nearly 600-member healthcare organizations across 45 states in the U.S., Canada, Australia and New Zealand. The benefits of membership extend to all staff within the member organization. There are also more than 200 healthcare organizations in the U.K. and Ireland conducting the Schwartz Rounds program through a partnership. Schwartz Center members rely on our offerings to support clinician mental health and well-being, enhance the quality of care, enable better outcomes and create a more positive and rewarding experience for all members of the care team, patients and their families.
We partner with healthcare organizations and systems to achieve a shared vision of a world
where all who seek and provide care experience compassion
.