Henry Ford Wyandotte Hospital Donates Life-Saving Medical Equipment to Community Partners
November 1, 2021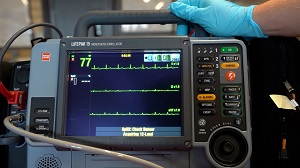 DETROIT (November 1, 2021) – Building on its partnership with community emergency responders, Henry Ford Wyandotte Hospital has donated life-saving medical equipment to four fire departments in the Downriver area.
Two Lifepak monitor/defibrillator devices were each delivered to Brownstown, Riverview and Wyandotte fire departments and one was delivered to the Woodhaven fire department. The portable devices provide basic and advanced life support for treating patients in cardiac distress. They also allow emergency responders to transmit a patient's heart activity during transport to the hospital, expediting emergency cardiac intervention for when the patient arrives.
The donated devices, totaling more than $234,000, were made possible by grant funding and money raised by the hospital's annual golf outing.
"We see and understand the tremendous importance to the community we serve that our local fire departments and emergency response personnel have the proper equipment needed," said Henry Ford Wyandotte Hospital President Jennifer Eslinger. "By placing these devices in the hands of local medical first responders, Henry Ford Wyandotte Hospital is providing more opportunities for informed, streamlined, and clinically proven care for patients in the field."
Wyandotte fire chief Dan Wright said the department was grateful for the donation, a must-have for emergency responders. "It's something that we have needed and have been looking to the future to figure out how we were going to actually pay for these," he said.
The emergency departments at Henry Ford Wyandotte and Henry Ford Health Center-Brownstown, part of the Henry Ford Health System, treat more than 80,000 patients a year combined.
"The value of these machines to transmit information from the field to the emergency department essentially offers time in our most critically ill patients, especially those suffering massive heart attacks," said Satheesh Gunaga, D.O., medical director of the Emergency Department at the Brownstown health center. "When our EMS partners are able to transmit that 12 lead to us, we will activate our cath (cardiac catherization) lab immediately. This means members of our community are getting the emergent cardiology care they need, faster."
Woodhaven fire chief Michael Clark said having reliable medical equipment in the field is crucial. Not a day goes by without the device being used in an emergency. "We want to make sure that it is accurate as possible so we can provide the proper treatment and let the doctors know exactly what's going on before we get to the hospital," he said.
###
NEWS MEDIA ONLY may contact: David Olejarz / David.Olejarz@hfhs.org / 313-303-0606
About Henry Ford Health System
Founded in 1915 by Henry Ford himself, Henry Ford Health System is a non-profit, integrated health system committed to improving people's lives through excellence in the science and art of healthcare and healing. Henry Ford Health System includes Henry Ford Medical Group, with more than 1,900 physicians and researchers practicing in more than 50 specialties at locations throughout Southeast and Central Michigan. Acute care hospitals include Henry Ford Hospital in Detroit, MI and Henry Ford Allegiance Health in Jackson, MI – both Magnet® hospitals; Henry Ford Macomb Hospital; Henry Ford West Bloomfield Hospital; and Henry Ford Wyandotte Hospital.
The largest of these is Henry Ford Hospital in Detroit, a quaternary care research and teaching hospital and Level 1 Trauma Center recognized for clinical excellence in cardiology, cardiovascular surgery, neurology, neurosurgery, and multi-organ transplants. The health system also provides comprehensive, best-in-class care for cancer at the Brigitte Harris Cancer Pavilion, and orthopedics and sports medicine at the William Clay Ford Center for Athletic Medicine – both in Detroit. As one of the nation's leading academic medical centers, Henry Ford Health System annually trains more than 3,000 medical students, residents, and fellows in more than 50 accredited programs, and has trained nearly 40% of the state's physicians. Our dedication to education and research is supported by nearly $100 million in annual grants from the National Institutes of Health and other public and private foundations.
Henry Ford's not-for-profit health plan, Health Alliance Plan (HAP), provides health coverage for more than 540,000 people.
Henry Ford Health System employs more than 33,000 people, including more than 1,600 physicians, more than 6,600 nurses and 5,000 allied health professionals.