Henry Ford Medical Group Appoints New Chair of Pediatrics
May 25, 2022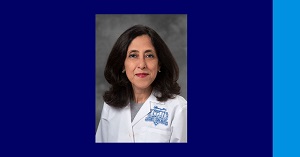 DETROIT (May 25, 2022) — After an extensive national search, the Henry Ford Medical Group has appointed Uzma Shah, M.D., an accomplished gastroenterologist and academic researcher, Chair of the Department of Pediatrics. Dr. Shah comes to Henry Ford Health from Massachusetts General Hospital in Boston and Harvard Medical School.
In her role as chair, Dr. Shah oversees clinical, research, and administrative services for Pediatrics. She is formalizing outpatient, inpatient and specialty growth strategies and strengthening existing academic, research and clinical partnerships with Michigan State University and Children's Hospital of Michigan.
The Medical Group, part of Detroit-based Henry Ford Health, is one of the largest group practices in the country with more than 1,900 physicians and researchers in more than 40 specialties. Physicians care for patients in Henry Ford hospitals and outpatient medical centers across Southeast Michigan and Jackson.
"Dr. Shah arrives with impeccable world class credentials across the spectrum of pediatric care," said Steven Kalkanis, M.D., CEO of the Henry Ford Medical Group and Senior Vice President and Chief Academic Officer. "Her wealth of talent and experience will help us build on our program's solid foundation as we reimagine what our services for children might entail moving forward."
"I look forward to working with the talented team at Henry Ford as we build on the Department of Pediatrics' long and historic tradition of excellence and grow as a destination academic medical center," Dr. Shah said.
Dr. Shah will build on the foundation laid by Charles Barone, M.D., who retired as chair in 2021 after two decades in the role. Under Dr. Barone's guidance Henry Ford expanded inpatient services for newborns and children, established a comprehensive relationship with Children's Hospital of Michigan, created a thriving school-based clinic program, and founded the Center for Autism and Developmental Disabilities.
Dr. Shah is board certified in pediatric gastroenterology and pediatrics. At Massachusetts General Hospital, she served as the pediatric lead for major hospital and service line developments across the globe. Her tenure included leadership roles for pediatric hepatobiliary disease, pediatric gastroenterology and nutrition, pediatric pancreas, pediatric liver transplant, and hepatobiliary and pancreas services.
Dr. Shah has served on the faculty of Harvard Medical School since 2008. She led the development of extensive research, academic and hospital infrastructure for the medical school in the United Arab Emirates and Pakistan. She's championed diversity, equity and inclusion and the advancement of women in academic medicine.
"My journey in healthcare has been a phenomenal adventure. I've been tremendously blessed to be able to help children all over the world," Dr. Shah said. "I'm excited to continue my work here in Detroit with an institution that's committed to providing the best, most complete care for children and their families."
Dr. Shah remains active in hepatobiliary, transplant, pancreas education and research. Nationally, she serves in leadership roles at the American Association for the Study of Liver Disease and the North American Association for Pediatric Gastroenterology, Hepatology and Nutrition. She is active with the American Liver Foundation for Michigan. She completed a term as an examiner on the American Board of Pediatrics; was a member of the American Liver Foundation for New England; and served as the head of the National Pancreas Foundation Center of Excellence at Massachusetts General Hospital for Children.
Dr. Shah is a graduate of Dow Medical College, Karachi, Pakistan, and completed her residency at the University of Illinois at Chicago. She also completed fellowship training in pediatric gastroenterology, hepatology and nutrition at Boston Children's Hospital, Massachusetts General Hospital, and the Harvard Medical School.
###
MEDIA ONLY MAY CONTACT: Dana Jay / djay2@hfhs.org / 847-530-0320