Henry Ford Hospital Celebrates Storybook Halloween in Neonatal Intensive Care Unit
October 25, 2022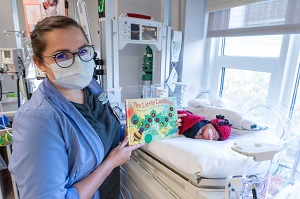 DETROIT (Oct. 25, 2022)—Babies in the neonatal intensive care unit (NICU) at Henry Ford Hospital are the heroes of a storybook Halloween photo shoot currently appearing on Henry Ford Health social media.
Nurses dressed the hospital's tiniest patients as beloved characters from children's books and posed them for the photos. The team says the annual Halloween photo shoot is a special treat for families whose babies aren't yet ready to go home to celebrate.
Henry Ford team members encourage families and visitors to read to the babies during their stay in the NICU, so this year's costumes are inspired by books such as The Cat in the Hat, Corduroy, Madeline and The Very Hungry Caterpillar. Other newborns appear in the photos as Horton from Dr. Seuss's Horton Hears a Who, Waldo from Where's Waldo, and pile of spaghetti and meatballs inspired by Cloudy With a Chance of Meatballs by Judi Barrett. Each baby will take the book and their costume home with them.
Reading to infants gives them a head start on experiencing high quality language, promotes parent-infant bonding, may reduce levels of parental stress and has been shown to promote physical health.
The costumes were hand made by one of the nurses' moms.
###
MEDIA ONLY may contact: Dana Jay/ djay2@hfhs.org/ 313-437-2062
About Henry Ford Health
Serving communities across Michigan and beyond, Henry Ford Health is committed to partnering with patients and members along their entire health journey. Henry Ford Health provides a full continuum of services – from primary and preventative care, to complex and specialty care, health insurance, a full suite of home health offerings, virtual care, pharmacy, eye care and other healthcare retail.
It is one of the nation's leading academic medical centers, recognized for clinical excellence in cancer care, cardiology and cardiovascular surgery, neurology and neurosurgery, orthopedics and sports medicine, and multi-organ transplants. Consistently ranked among the top five NIH-funded institutions in Michigan, Henry Ford Health engages in more than 2,000 research projects annually. Equally committed to educating the next generation of health professionals, Henry Ford Health trains more than 4,000 medical students, residents and fellows every year across 50+ accredited programs.
With more than 33,000 valued team members, Henry Ford Health is also among Michigan's largest and most diverse employers, including nearly 6,000 physicians and researchers from the Henry Ford Medical Group, Henry Ford Physician Network and Jackson Health Network.
The health system is led by President and CEO Robert G. Riney and serves a growing number of customers across 250+ locations throughout Michigan including five acute care hospitals, two destination facilities for complex cancer and orthopedics and sports medicine care, three behavioral health facilities, primary care and urgent care centers.